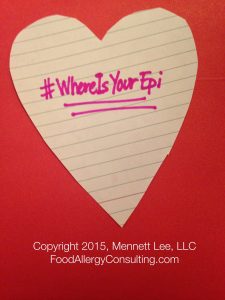 Where is your epi?
My friend and incredible food allergy advocate, Gina Mennett Lee came up with a brilliant idea to move beyond food allergy awareness to education with a campaign that will take place every month. One of the most important aspects of managing life threatening allergies of any kind (food, insect stings, medications, etc.) is having access to one's prescribed epinephrine auto-injector. Therefore the theme of February's campaign is #WhereIsYourEpi.
Go and visit Gina's #WhereIsYourEpi campaign page to learn more about why is it important to have access to your epinephrine auto-injector by having it in your home at a designated location and with you when you are away from home. She also has details on how to win a $50 Amazon gift card and answers the following important question:
Did you know that a delay in using epinephrine for a life-threatening reaction (anaphylaxis) can have a huge impact on the outcome of the patient and can even result in death?
Here is a photo of where my children keep their epi waistpacks. Where do you keep yours?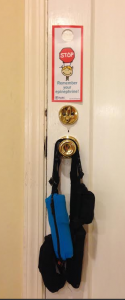 The "Beyond Awareness Educational Campaign" was created by Gina Mennett Lee, M.Ed. of Mennett Lee, LLC. The purpose of the campaign is to harness social media to provide necessary education to the public regarding food allergy management. Caroline Moassessi of GratefulFoodie and Sharon Wong of Nut Free Wok have joined the campaign to provide an even greater reach. We hope you will join our effort by sharing the campaigns on your social media outlets. Together we can make a difference.
Love this post?