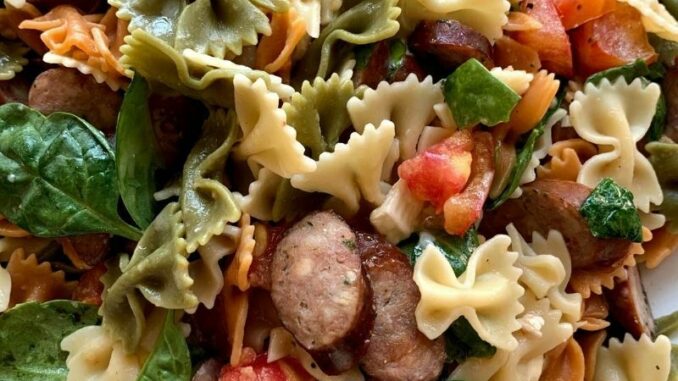 I can make this hearty pasta with chicken sausages, sweet summer tomatoes, and creamy brie recipe in under 30 minutes and celebrate that my son outgrew his tomato allergy every time! Yay!
It's definitely not Asian-inspired but since we're minimizing our trips out due to the pandemic, it's a hearty meal that I can make with pantry staples, some brie, and chicken sausages which keep well in the refrigerator, and use the best of summer tomatoes and basil. I personally love it because it's a reminder we can enjoy tomatoes again in our family. Many thanks to my friend G who introduced me to this amazing dish.
Disclaimer: Please check that all ingredients are suitable for your allergies and be sure to ask your medical care team regarding any allergy related questions (I do not share medical advice). As an Amazon Associate I earn from qualifying purchases.
Update: minor edits for clarity (5/2023)
Jump to Recipe
Welcome Back Tomatoes!
When I first started my blog I wrote an article about easy caprese inspired recipe ideas and my son's tomato allergy. I shared what I used to make before life with a tomato allergy and some ideas on how to tomatoes at the same time! I don't know where I was going with that post but sometimes life with food allergies is an odd mixture of grief, longing, hope, and other feelings. #AmIRight?
My son outgrew some of his less severe food allergies, including tomatoes after his peanut patch trial. After his trial ended we tried all of his allergens to see what needed further desensitization and we were happy that he outgrew tomato. It's been a slow process of gradually feeling comfortable with tomatoes again.
Free Heirloom Tomatoes & Garden Hacks
I started using fresh tomatoes last year, I felt happy and grateful but dreaded it at the same time. Yummy but what if the allergy comes back? It's easy to serve sliced or chopped tomatoes on the side but it is a commitment to use tomatoes in a main entree. What if he doesn't like it and I didn't make anything else for dinner? The fear is real and sometimes I end up with rotten tomatoes due to procrastination.
One heirloom tomato went bad last summer and I just couldn't throw it out and couldn't eat it either. So to make myself feel less terrible about wasting food, I buried the rotten tomato in a medium sized pot in hopes that it would grow into a tomato plant. My garden hack worked and a tomato plant grew in the spring. I love the homegrown heirloom tomatoes, they are so sweet and so fresh.
One heirloom tomato plant was not enough for us, so I want more for next summer. As we head into the fall, I have been saving seeds from the last of the tomatoes I can buy, especially if they are delicious. I save the seeds that end up on my cutting board. I use a teaspoon to select some viable seeds from the chopped or sliced tomatoes and place the seeds on a paper towel to dry and then store them in the refrigerator to plant in March. (5/2023 update: saving seeds totally doesn't work for my skill set. It's much easier to bury a piece of tomato and just wait!)
I also buy a small basil plant from Trader Joe's and keep it by a sunny window. I keep harvesting it until it's time to get a new plant, usually about 6 months later. This year I took some cuttings and will try propagating the basil for extra plants..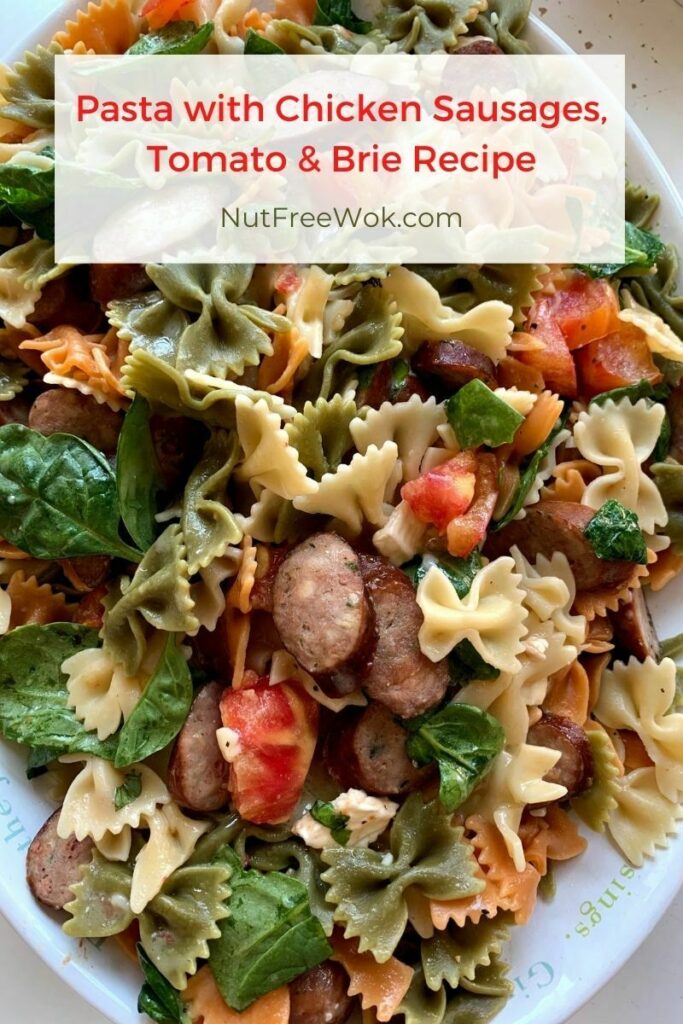 Timing is Everything
I love to make this recipe when I need a big filling meal in a hurry. Basically, I want to boil and cook the pasta, assemble, stir, and eat. While the pasta cooks, I pan fry some sliced chicken sausages in a frying pan at the same time. At the same time, I chop the tomatoes and season with a little salt, pepper, and a drizzle of olive oil in a large serving dish. I add some chopped basil, chopped brie, a few handfuls of baby spinach, and then the cooked sausages on top. The heat from the sausages will wilt the spinach and melt the brie a bit. Then I drain the pasta and add to the platter and gently stir until everything is combined.
This recipe is free of peanuts, tree nuts, egg, soy, shellfish, and fish as written.
My pasta with brie dish obviously contains wheat and dairy, however you can make an easy substitution by using your favorite gluten free pasta for a wheat-free alternative.
But what about using dairy-free cheese? Save some starchy pasta water, drain your pasta, add some olive oil to the pot, return the pasta to the pot. Work quickly to add some dairy-free cheese and then add the starchy pasta water and stir until the dairy-free cheese is melted.
Dairy-free variation: A completely different way to serve this dish is to skip all the cheeses and use a drizzle of your favorite oil and vinegar based salad dressing. That's absolutely delicious and the cold leftovers are my favorite for a quick lunch.
I use Trader Joe's Garlic and Herb chicken sausages in this recipe but you can use any kind of already cooked, heat and serve sausage that works for your allergies and your dietary preferences.
Sometimes we have to use what is available. I highly recommend using homegrown tomatoes and/or heirloom varieties for the best flavor and texture when possible. If you love tomato recipes, check out my recipe for loco moco where I saute some fresh tomatoes to serve along with hamburger patties, fresh rice, a fried egg, and topped with a Dairy-Free & Make Ahead Beef Gravy Recipe.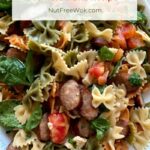 Pasta with Chicken Sausages, Tomato & Brie Recipe
I can make this hearty pasta recipe with chicken sausages, sweet summer tomatoes, and creamy brie in under 30 minutes.
Ingredients
1

pound

pasta (bowtie or penne)

cook according to package

2

teaspoons

olive oil

divided

8

chicken sausages (heat & serve)

sliced

2

medium

tomatoes (or 1 large)

large dice, can add more if desired

1/2

cup

basil

chopped, can add more if desired

salt and pepper to taste

2

cups

baby spinach

4

ounces

triple cream brie

diced, can add more if desired
Instructions
Cook pasta according to package in a large stock pot.

Heat up a large frying pan on medium heat, add 1 teaspoon of olive oil, and pan fry the sliced sausages until heated through (about 5 minutes), keep warm until ready to assemble.

Add the diced tomatoes to a large serving bowl, season with salt and pepper to taste, drizzle with 1 teaspoon of olive oil and stir. Add chopped basil, diced brie, baby spinach, and add the cooked sausages on top.

When the pasta is ready, drain in a colander and add the pasta to the serving bowl and gently mix. Add more salt and pepper to season to taste.
Thanks for reading, please help Nut Free Wok!
The best way to see every post or recipe is to subscribe to Nut Free Wok's email subscription (be sure to respond to the confirmation email). You will be notified by email next time I publish another post or recipe and I won't send you spam or share your email address with anyone.
If you enjoyed this post, please use the social media buttons below to share with others. I am on Facebook, Twitter, Pinterest, and Instagram as @nutfreewok and it's great to chat and interact on social media too.
Disclosure/Disclaimer:
I may mention the names of stores and/or brand names of products that I use because readers ask and I share products and sources which I use and think may be helpful to readers, all opinions are my own. Please note that manufacturing practices and ingredients can change at anytime without notice and readers are always responsible for assuring allergen safety before buying or consuming foods. NutFreeWok.com is a participant in the Amazon Services LLC Associates Program, an affiliate advertising program designed to provide a means for sites to earn advertising fees by advertising and linking to Amazon.com.