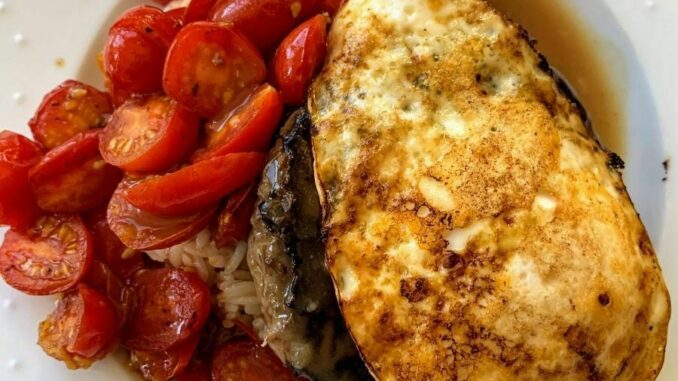 Have you ever had loco moco? You have probably had a fried egg, gravy, hamburger patty, and rice but it's amazing together at the same time!! I ordered it for the first time on my honeymoon in Kauai without knowing anything about the dish except it was fun to say, "I would like the loco moco, please." Out came a dish with a fried egg with crispy edges, a yummy beef patty, hot steaming rice, with gravy.
I've always wondered what does Loco Moco mean? Apparently some Hilo high school teens wanted something cheap and filling to eat, so a local restaurant made this dish for them and the first boy who ate this dish was nicknamed Loco (for his crazy sports antics) and they added Moco because the name sounds good as Loco Moco.
I realized that it's also one of my son's favorite dishes as he would get up early and make for our family for breakfast, what a treat! I appreciate his kindness and sharing that time with him to talk about making loco moco. I love visiting Hawaii and eating Hawaiian food, making loco moco at home is the next best thing.
Disclaimer: Please check that all ingredients are suitable for your allergies and be sure to ask your medical care team regarding any allergy related questions (I do not share medical advice). As an Amazon Associate I earn from qualifying purchases.
Making Loco Moco Efficiently
Typically people season and make the patty, let them set, then fry them and make a gravy in the pan. I find that making the gravy last takes too long and the patty becomes cold, the eggs overcook, etc.. Instead I form the patties first. Then while the patties set, I make a gravy. And then while the gravy simmers and thickens, I fry the hamburger patties. Sometimes I make the gravy in advance.
After I fry the hamburger patties, I like to cook some sliced grape tomatoes in the same frying pan, that serves to deglaze the pan a bit and season the tomatoes at the same time. And then I take the tomatoes out and cook the eggs in the same pan. If tomatoes don't work for you, you can also stir-fry some mushrooms, onions, zuchinni, or any vegetable side you would like to eat. We just happen to have a lot of grape tomato plants growing in our yard and I look for ways to eat them up!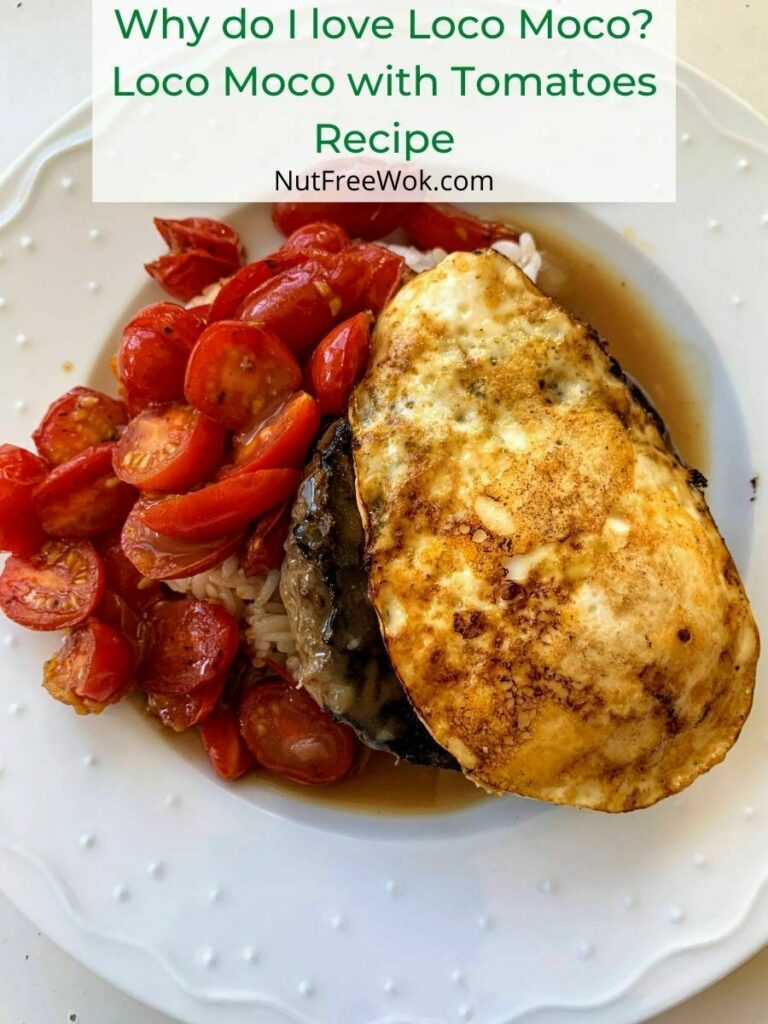 Loco Moco Varieties
Usually people use about 1 pound ground beef to make 4 (4 ounce) hamburger patties. I happened to have a 20-ounce vacuum-sealed package of ground bison from my freezer and made them a little bigger and allowed more time to fry them. I like bison because it's leaner than beef but tastes great.
I like to fry the patties in non-stick pan on medium heat. It cooks evenly without burning on the outside and I don't have to use as much oil. I also use my Zojirushi rice cooker (affiliate link) to make the rice effortlessly and perhaps in the quick cooking mode if I didn't start cooking early enough.
The nice thing about making loco moco is that if you happen to have cooked chicken teriyaki, you can use that instead of hamburger patties or add cooked sausages, fried spam, bacon, etc. If I'm cooking for myself, I would heat up a bowl of leftover vegetables, rice, and gravy and fry a fresh egg.
Allergy Aware Loco Moco
This recipe is free from peanuts, tree nuts, milk, fish, shellfish, and sesame as written.
If allergic to soy, the recipe contains soy sauce. You can simply omit or use a soy-free soy sauce or soy substitute.
If allergic to wheat, be sure to use a gluten-free soy sauce such as a tamari sauce labeled gluten-free and swap out the panko with a gluten-free breadcrumb.
If allergic to egg, you can add a different binder in the hamburger patty but even water would work. You can omit the fried egg or make a vegan egg from a vegan egg product.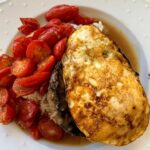 Loco Moco with Tomatoes
This is a Hawaiian inspired breakfast with a fried hamburger patty and egg over rice with gravy. You will need to make rice in a rice cooker or a pot (see notes) and you will also need to make a gravy while you're waiting for the beef patties to set (see notes for a link to the recipe).
Ingredients
1 1/2

cups

white rice

1 1/2

cups

water

16

ounce

ground bison or lean ground beef

1/2

finely chopped sweet onion

1/2

cup

panko

5

eggs

divided

1

teaspoon

soy sauce

1/2

teaspoon

black pepper

1/4

teaspoon

salt

use 1/2 teaspoon if omitting soy sauce

3

teaspoons

olive oil or other neutral oil

divided

1

recipe beef gravy

can be made ahead, if desired

2

cups

grape or cherry tomatoes

cut in half

Chopped scallions

garnish (optional)
Instructions
Rinse the rice twice in a rice washing bowl or in a rice cooker pot and soak the rice with 1 1/2 cup water for 10 minutes. Cook the rice in a rice cooker.

In a large mixing bowl, combine the ground meat, onion, panko, 1 egg, soy sauce, black pepper, salt. Divide the meat into 4 and shape them into patties about 1 inch thick. Smooth the sides and indent the center slightly so that the patties look like a bagel. Place on a plate and cover with plastic wrap and refrigerate for 15 minutes.

In the meantime, make a batch of gravy in a large pan. Let it simmer on low heat to thicken and keep warm.

Preheat a large non-stick frying pan on medium heat for 3-4 minutes. Add 1 teaspoon of oil and swirl the pan to coat. Add the hamburger patties and fry undisturbed for 4 minutes on each side until browned and cooked through. Set aside.

Scrape any brown bits and add to the gravy. Add 1 teaspoon oil to the pan and stir-fry the tomatoes until they're soft and slightly browned (approximately 3-4 minutes). Transfer the tomatoes to a bowl and set aside.

Add the remaining 1 teaspoon of oil and swirl to coat the pan. Crack the remaining 4 eggs and fry for 3 minutes until they have a crispy bottom. Flip them over to fry for one more minute for an over easy egg (cook longer if desired).

To plate, add 1/2 cup of rice, add a hamburger patty, drizzle 1 ladle (approximately 1/4 cup) of gravy on the patty, and top with an egg, a scoop of tomatoes, and scallion garnish.
Thanks for reading, please help Nut Free Wok!
The best way to see every post or recipe is to subscribe to Nut Free Wok's email subscription (be sure to respond to the confirmation email). You will be notified by email next time I publish another post or recipe and I won't send you spam or share your email address with anyone.
If you enjoyed this post, please use the social media buttons below to share with others. I am on Facebook, Twitter, Pinterest, and Instagram as @nutfreewok and it's great to chat and interact on social media too.
Disclosure/Disclaimer:
I may mention the names of stores and/or brand names of products that I use because readers ask and I share products and sources which I use and think may be helpful to readers, all opinions are my own. Please note that manufacturing practices and ingredients can change at anytime without notice and readers are always responsible for assuring allergen safety before buying or consuming foods. NutFreeWok.com is a participant in the Amazon Services LLC Associates Program, an affiliate advertising program designed to provide a means for sites to earn advertising fees by advertising and linking to Amazon.com. Thank you for reading!