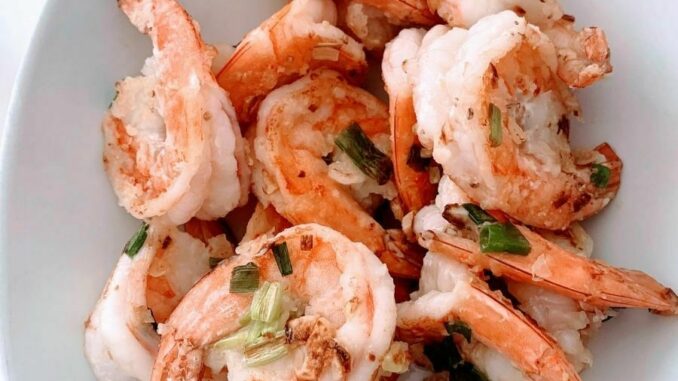 One of my mom's favorite dishes is Salt and Pepper Shrimp, which involves deep frying some shrimp and then stir-frying them with fresh jalapeño slices. However, one of my son correctly observed that all of the flavor is on the shells which we can't eat daintily with our best table manners. I have created my own stir-fry version of a Chinese restaurant favorite, Chinese Salt & Pepper Garlic Shrimp that skips deep-frying and every bite is coated with spices, fried garlic, and scallions.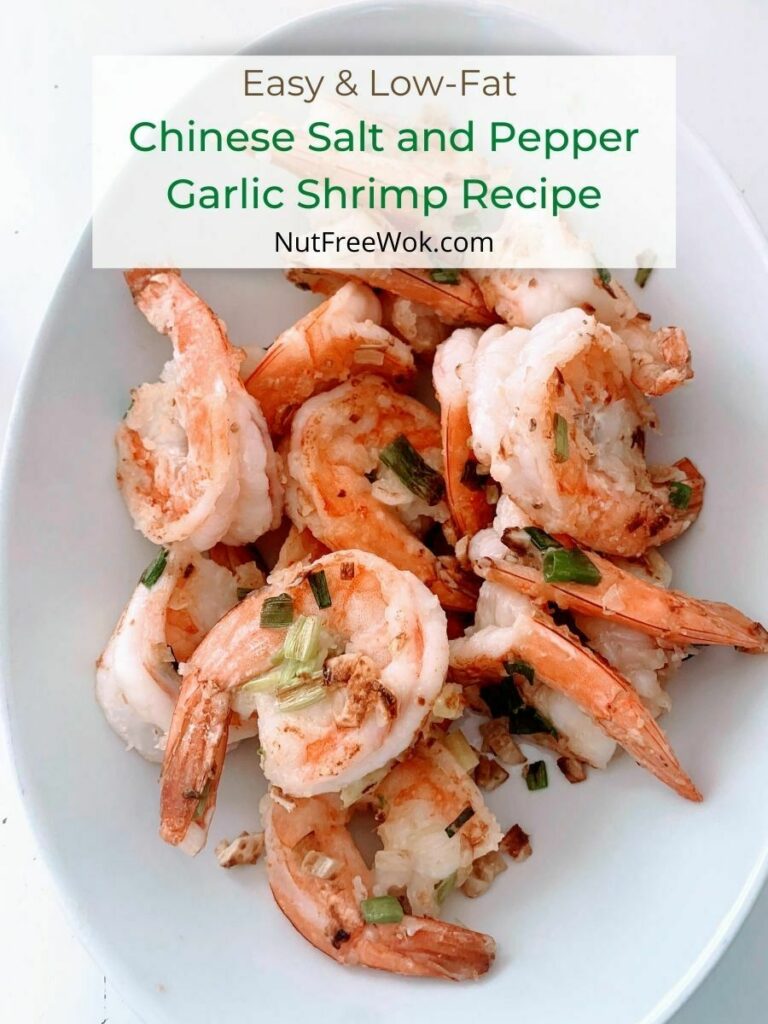 Disclaimer: Please check that all ingredients are suitable for your allergies and be sure to ask your medical care team regarding any allergy related questions (I do not share medical advice). As an Amazon Associate I earn from qualifying purchases.
What Kind of Shrimp to Buy?
I always buy some frozen shrimp on every shopping trip so that I don't have to shop so much. Frozen shrimp thaws easily when follow you the package directions. I prefer the quality of frozen shrimp because the "fresh" shrimp tends to go bad quickly.
Shop for the biggest shrimps that you can find because they're less work to prepare and to cook. My favorite is 12-15 count per pound. Large 24 count shrimp will also be delicious but will cook faster than the suggested times in the recipe. For this recipe, you will need raw shrimp. Remove the shells but leave the tail on so that the tail doesn't overcook.
What Makes This Recipe Amazing?
I love the taste of salt and pepper shrimp from Chinese restaurants but don't like deep-frying at home. My goal is to create a stir-fried version of salt and pepper shrimp, with the same flavors but much easier and healthier.
I asked my dad what else makes salt and pepper shrimp so tasty? He said cornstarch but didn't tell me how much. For years, I added 1-2 teaspoons of cornstarch without the desired result. I gradually added more until I discovered that we need 2 to 3 tablespoons of cornstarch to coat the shrimp! You want some of the cornstarch coating the shrimp to look dry and white. And if you can't have cornstarch in your diet, use tapioca starch instead.
Did you know that white pepper and black pepper are from the same plant? They're processed differently and taste different. I have found nut-free whole white peppercorn from Spicely & Morton & Bassett (affiliate links). But I usually reuse a black pepper grinder with ok results. I plan to upgrade to this pepper grinder by OXO (affiliate link) but will take your recommendations in the comments. Ground white pepper gives Chinese food a nice white pepper aroma but tastes less spicy. You can use either but since I have both, I prefer freshly ground white pepper for this recipe.
Lastly, when the shrimp are almost done cooking, flash fry with a final splash of rice wine. The rice wine will sizzle and the steam will cook and flavor the shrimp with a nice aroma. If you don't have rice wine, you can use a little bit of sherry, brandy, or whiskey. And if someone can't have alcohol, use water or broth.
Allergy Aware Salt and Pepper Shrimp
This recipe is free of peanuts, tree nuts, eggs, soy, wheat, milk, fish, and sesame as written.
The biggest allergen in this recipe is shrimp. If you are allergic to shrimp but have read this far into the post, thank you for reading and big hugs. I have a shrimp-free idea that I will test and let you know how it goes. In the meantime, try my Chicken and String Beans recipe.
One of our family members is allergic to bell peppers. I omit jalapenos from the recipe in that situation, just in case there's cross-reactivity. The freshly ground white pepper usually has a nice peppery and spicy taste that we don't miss the jalapeño. You can also use ground white pepper but mix it into the shrimp before adding cornstarch so that the white pepper is evenly distributed.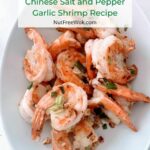 Chinese Salt & Pepper Garlic Shrimp
This Chinese Salt & Pepper Garlic Shrimp recipe is easy to make at home when we skip the deep-fry step and the garlic and scallions make it over the top delicious. I recommend using frozen shrimp for optimal freshness and convenience. But do remember to thaw overnight or allow a few extra minutes to thaw according to package instructions.
Ingredients
1

pound

extra large shrimp

(12-15 count)

1/4

teaspoon

white pepper, freshly ground

or black pepper

1/4

teaspoon

salt

2

tablespoons

cornstarch

(1 tablespoon more if needed)

2

teaspoon

olive oil

2

cloves

garlic

chopped

1

jalapeño

sliced (optional)

2

scallions

thinly sliced

1

tablespoon

Chinese rice wine

(or sherry, brandy, broth, water, etc)
Instructions
Rinse, peel, and devein the shrimp, leave the tail on. Pat dry the shrimps with paper towels and transfer to a large mixing bowl.

Sprinkle on salt and freshly ground white pepper, mix.

Sprinkle 2 tablespoons of cornstarch on the shrimp, mix. The shrimp needs to be coated with cornstarch and look partially dry. Add an additional tablespoon of cornstarch if needed.

Preheat a non-stick frying pan or wok on medium heat (3 minutes) or until a drop of water splashed on the pan sizzles.

Pour the oil in the pan and add the garlic, stir-fry until fragrant (30 seconds). Add the shrimp and spread them out in a single layer and sear them for 3-4 minutes. While waiting, add the scallions and jalapeño (if using).

When the tails turn pink and stir fry the shrimps briefly and sear them for 1 minute on the other side.

Drizzle 1 tablespoon of rice wine over the shrimp and then stir fry until the shrimps are cooked thru and look completely pink with some light browning.
Thanks for reading, please help Nut Free Wok!
If you like this recipe, please be sure to give a 5 star rating, leave a comment, and share this post! Your support means a lot to me.
Subscribe to Nut Free Wok's email subscription (be sure to respond to the confirmation email). You will be notified by email next time I publish another post or recipe and I won't send you spam or share your email address with anyone.
Disclosure/Disclaimer:
I may mention the names of stores and/or brand names of products that I use because readers ask and I share products and sources which I use and think may be helpful to readers, all opinions are my own. Please note that manufacturing practices and ingredients can change at anytime without notice and readers are always responsible for assuring allergen safety before buying or consuming foods. NutFreeWok.com is a participant in the Amazon Services LLC Associates Program, an affiliate advertising program designed to provide a means for sites to earn advertising fees by advertising and linking to Amazon.com. Thank you for reading!