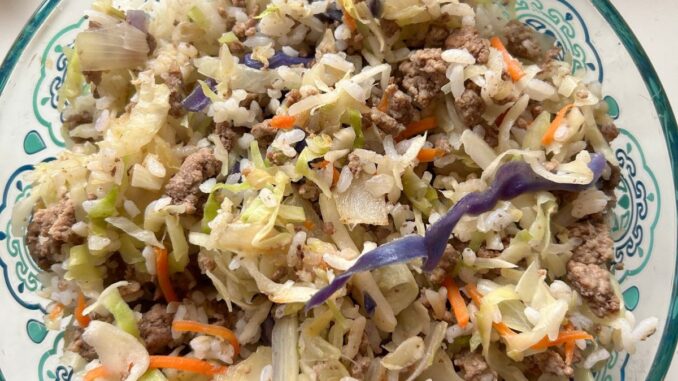 This beef fried rice recipe is delicious and super easy to make, nut-free, and egg-free. All you need to do is to plan ahead to make extra rice the day before so that you have some cold rice to make beef fried rice!
My friends made Beef Fried Rice for us when our family went to their house for dinner. The meal was delicious but I will never forget their kindness and hospitality to make a meal that is safe for our kids so that we can catch up and have fun together.
Disclaimer: Please check that all ingredients are suitable for your allergies and be sure to ask your medical care team regarding any allergy related questions (I do not share medical advice). As an Amazon Associate I earn from qualifying purchases.
Update: This post was updated on December 11, 2022 with more information and new photos.
Jump to Recipe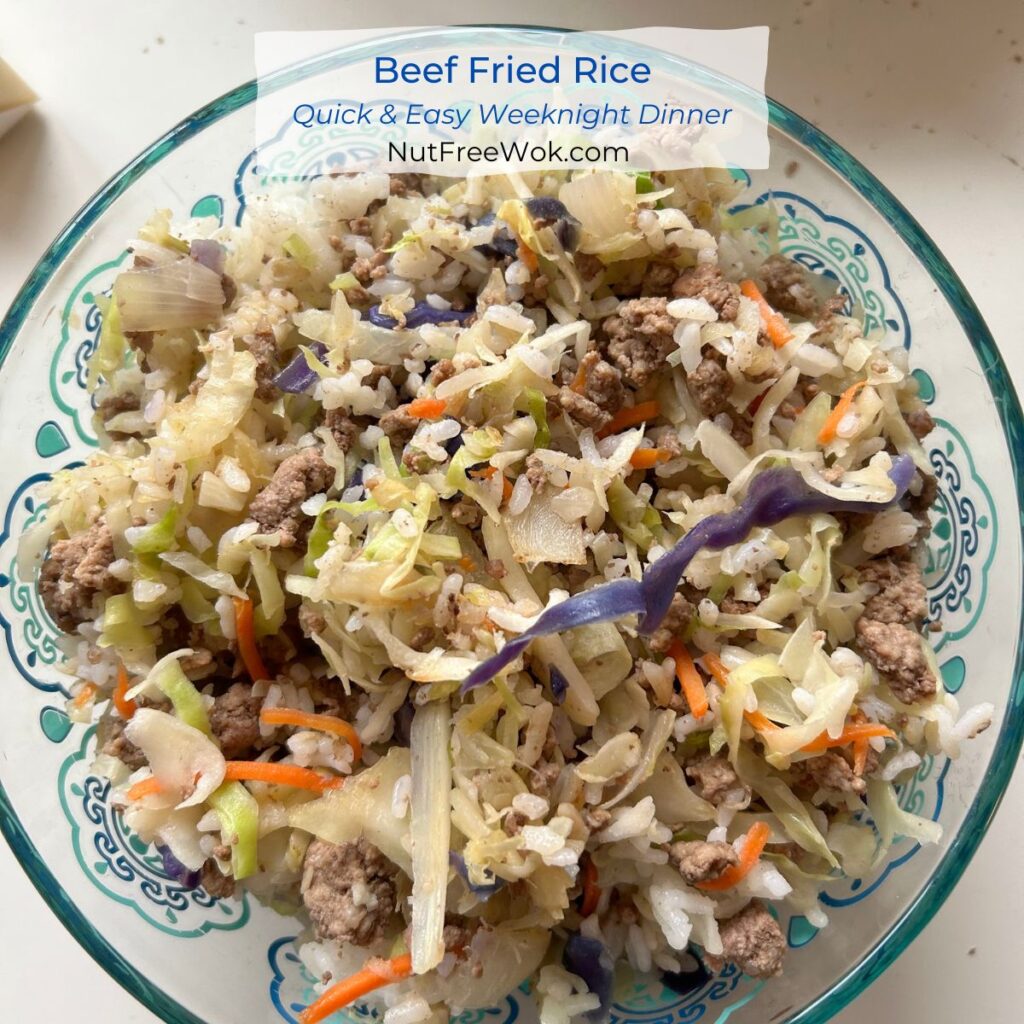 Beef Fried Rice Ingredients and Adaptations
My friend made beef fried rice with bell peppers and corn for us and my kids loved it. But when I made it, my children didn't like it as much. Long story short, I discovered that one of my sons is allergic to bell pepper! So instead of using bell pepper, I substitute with shredded carrots and shredded cabbage or an equivalent amount of coleslaw mix. I would add 1-2 cups of frozen corn if I don't have enough rice.
As I was updating this post, I realize that I needed to elaborate on why I recommend buying a high quality ground beef. It's more of a food safety issue to buy very fresh ground beef that is well packaged. I learned from one of my favorite nutrition writers, Marion Nestle, (affiliate) that organic and/or grassfed beef is better for our health and environment so that's what I buy whenever possible.
You could also substitute with other ground meats. Ground bison is very similar in taste and leaner than ground beef. You could also substitute with ground turkey or chicken if you like, but the taste would be slightly different.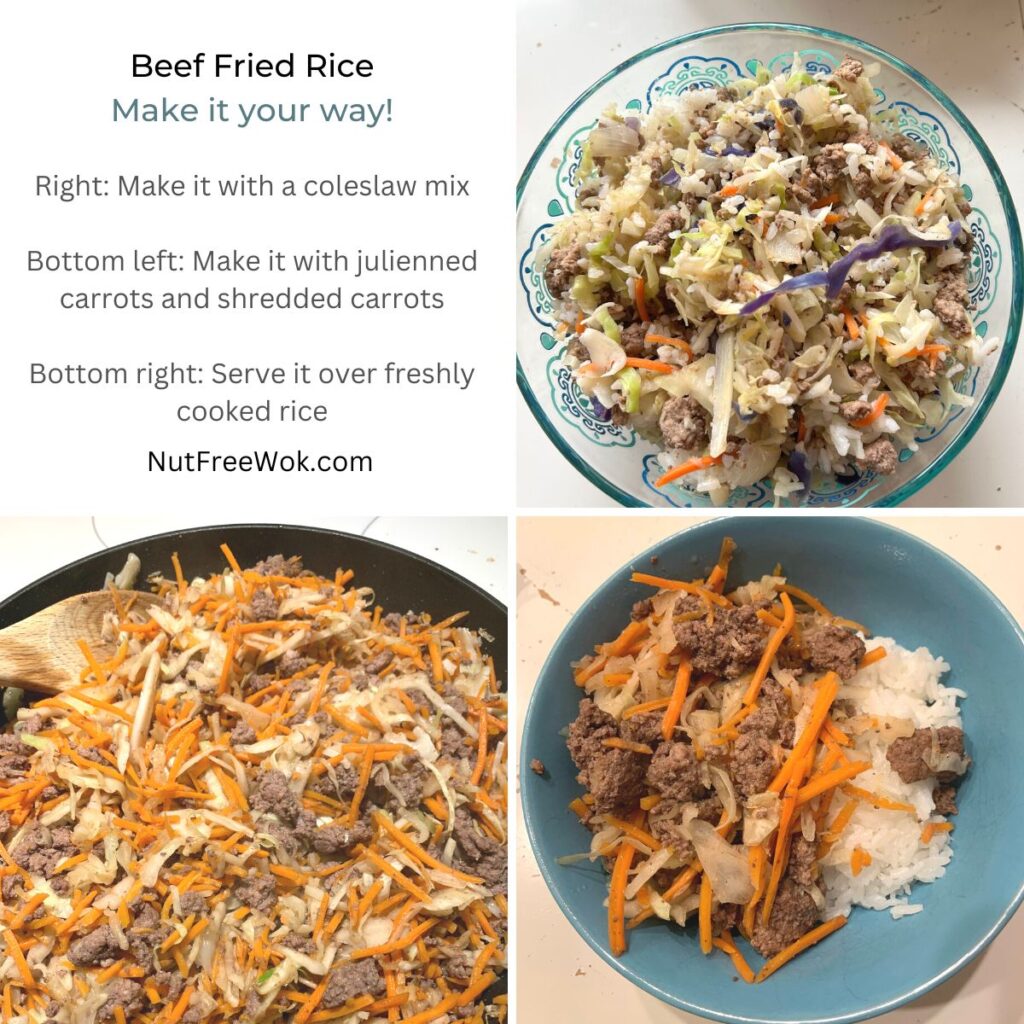 Always Use Leftover Rice to Make Fried Rice
Always make fried rice with leftover rice that has been refrigerated overnight. If you have a large enough rice cooker, it's easy to plan ahead and make a double batch of rice to eat half and save some to make fried rice the next day. If you don't have a rice cooker, I have a recipe for making rice in a pot.
Store the cooked rice in a microwave container, let the rice cool to room temperature with the lid slightly ajar to keep the moisture in, keep dust and germs out, and allow the rice to cool to room temperature so that it can chill safely in your refrigerator.
I usually cook with a medium grain cal-rose rice for our everyday meals. I love that it's a little bit sticky and soft. This recipe would work with long grain rice or Jasmine rice as well, but they're less sticky and more fluffy.
If you forget to make extra rice, the beauty of this recipe is that if you only have freshly cooked rice, just serve the beef and veggies over rice, mix-mix, and you have yourself a yummy bowl of rice that looks like fried rice without the additional step of actually frying the rice. Fast and easy, right?
This recipe is peanut free, tree nut free, egg free, shellfish free, fish free, and sesame free as written.
Allergy aware note: Our family likes to sprinkle a little bit of parmesan cheese on this dish. If you choose not to use parmesean cheese, you can either substitute furikake (a Japanese seaweed and sesame seed sprinkle), or add 1-2 extra teaspoons of soy sauce to taste. And if you are preparing this dish for someone who has a soy or gluten allergy, you can take a look at a previous post I had written about soy sauce alternatives. Enjoy!!
Other Fried Rice Recipes
If you like this recipe, you might like some other fried rice recipes that I have on my blog:
Chicken Pineapple Fried Rice Recipe – This is a nut free, Thai inspired recipe, with pineapple, and is a perfect cook once, eat twice meal because it uses leftover Broiled Teriyaki Chicken Thighs Recipe.
Easy Vegetable Fried Rice with Egg – This is a simple vegetable fried rice recipe.
Smoked Duck Fried Rice, An Easy & Versatile Recipe – Fried rice when you are feeling fancy or have some extra duck.
Aromatic Cilantro Onion Ginger Fried Rice – Delicious and simple
Easy and Tasty Ginger Fried Rice Recipe – Simple and perfect for when you need to settle your stomach and ginger is your go-to food.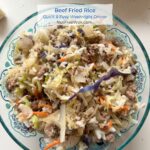 Beef Fried Rice with Cabbage and Carrots Recipe
This beef fried rice recipe is delicious and super easy to make, nut-free, and egg-free. All you need to do is to plan ahead to make extra rice the day before so that you have some cold rice to make beef fried rice!
Ingredients
1

pound

lean ground beef

90% beef or leaner (organic and/or grassfed recommended)

1/2

teaspoon

olive oil

1

8-oz

julienned carrots

1

8-oz

shredded cabbage

(or coleslaw mix)

4

cups

rice, cooked

chilled overnight

1

tablespoon

soy sauce

1/2

teaspoon

garlic powder

1/4

cup

grated parmesan cheese

optional
Instructions
Heat a large frying pan on medium heat for a 3-4 minutes.

Add oil to the pan, swirl to coat, add the ground beef.

Use a spatula or a wooden spoon to break up the ground beef into smaller pieces and brown for 3-4 minutes until it's 50% cooked.

Add the carrots and cabbage (or coleslaw mix) on top but don't stir and allow the ground beef to continue to brown for a few minutes.

Stir-fry the beef and vegetables together until the meat is thoroughly cooked and the carrots are soft, another 3-4 minutes.

Add the rice, gently press down on the large clumps of rice with a spatula and stir fry until the rice is hot. The smaller clumps will eventually separate when the rice heats up.

Season with soy sauce and garlic powder and adjust taste (depending on whether or not you will top with grated parmesan).

Serve immediately with grated cheese available on the side.
Recipe Notes
You can prep the carrots and cabbage from scratch if you like or you can use about 1 pound of coleslaw mix for convenience. If you do not eat beef, you can substitute with ground bison, ground turkey, or ground chicken. 
Thanks for reading, please help Nut Free Wok!
The best way to see every post or recipe is to subscribe to Nut Free Wok's email subscription (be sure to respond to the confirmation email). You will be notified by email next time I publish another post or recipe and I won't send you spam or share your email address with anyone.
If you enjoyed this post, please use the social media buttons below to share with others. I am on Facebook, Twitter, Pinterest, and Instagram as @nutfreewok and it's great to chat and interact on social media too.
Disclosure/Disclaimer:
I may mention the names of stores and/or brand names of products that I use because readers ask and I share products and sources which I use and think may be helpful to readers, all opinions are my own. Please note that manufacturing practices and ingredients can change at anytime without notice and readers are always responsible for assuring allergen safety before buying or consuming foods. NutFreeWok.com is a participant in the Amazon Services LLC Associates Program, an affiliate advertising program designed to provide a means for sites to earn advertising fees by advertising and linking to Amazon.com. Thank you for reading!