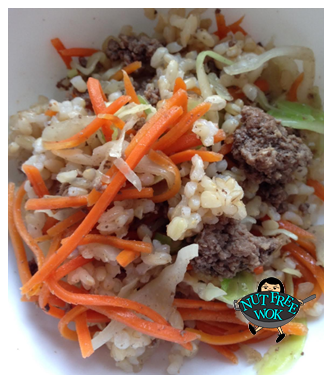 Beef Fried Rice with Cabbage and Carrots Recipe
Friends who care about spending time with our family more than the fear or inconvenience of food allergies are friends forever. Our friends invited us over to have dinner with them and made an allergy safe ground beef fried rice and I was so thrilled that my kids enthusiastically ate the meal our friend prepared. It was a wonderful evening, fun times with friends and I had a new recipe idea to make at home. Beef, rice, chopped bell peppers, and corn were the main ingredients.
I never suspected a food allergy but my boys just didn't like bell peppers whenever I made my friend's recipe. So I refrained from serving bell pepper in our food but I would serve cut up bell peppers on the side for whoever wanted to have some. I'm so glad I didn't force the issue because one of the my boys tested positive for bell peppers last summer which explained his discomfort from eating bell peppers.
FARE has compiled a very helpful list of how a child might describe a food allergy symptom that parents, teachers, and other child caregivers will want to be aware of when serving foods to children. My children have told me that certain foods "taste spicy," that they feel like ears or head feel full, or they want to reach in and scratch their ears or mouth. We can help our children by being aware of what children say about how they feel after they eat.
My recipe for Beef Fried Rice is very fast and easy, my older son can make this for our family independently. I'm often multi-tasking doing other things in between steps when I make this dish because it is so easy. I use higher quality ground beef whenever possible, such as organic and/or grass fed beef. I have also substitute ground bison meat for a delicious lower fat option. I also use bags of shredded cabbage and julienned carrots to cut back on prep time. If your supermarket has washed and ready to dress bags of coleslaw, you could easily use that instead.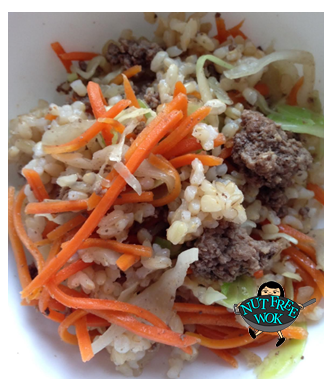 Easy variation: When preparing fried rice, it's always best to use cold leftover rice but the beauty of this recipe is that if you only have fresh cooked rice,  you can cook and season the beef and veggies and serve it over rice, mix-mix, and you have yourself a yummy bowl of rice that looks like fried rice without the additional step of actually frying the rice. Fast and easy, right?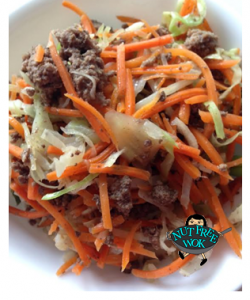 Allergy aware note: Our family likes to sprinkle a little bit of parmesan cheese on this dish. If you choose not to use parmesean cheese, you can either substitute furikake or adjusting the amount of soy sauce to taste (an extra teaspoon should be plenty!). And if you are preparing this dish for someone who has a soy or gluten allergy, you can take a look at a previous post I had written about soy sauce. Enjoy!!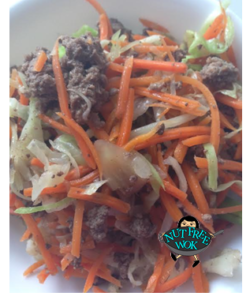 Recipe is peanut free, tree nut free, egg free, shellfish free, and fish free as written.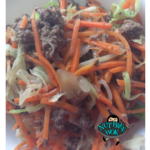 Beef Fried Rice with Cabbage and Carrots Recipe
Ingredients
1

pound

lean

90% or better ground beef (organic and/or grassfed recommended)

non-stick cooking spray or 1/2 teaspoon olive oil

1 8

oz

bag of julienned carrots

1 8

oz

bag of shredded cabbage

4-6

cups

of cooked leftover rice

1

tablespoon

soy sauce

1/2

teaspoon

garlic powder

1/4

cup

grated parmesan cheese
Instructions
Heat a large pot with high sides (6-8 qts) on medium heat for a 3-4 minutes.

Use non-stick cooking spray or add 1/2 teaspoon of oil to pot and add ground beef.

Break up the ground beef into smaller pieces and brown for 3-4 minutes until it's 50% cooked.

Add carrots then cabbage (don't stir! this step allows the meat to continue to cook but speeds up the amount of time needed to cook the veggies!) and let the meat continue to brown for a few minutes.

Stir-fry the beef and vegetables together until the meat is thoroughly cooked and the carrots are soft, another 3-4 minutes.

Add rice and stir fry until the rice is hot.

Season with soy sauce and garlic powder and adjust taste (depending on whether or not you will top with grated parmesan).

Serve immediately with grated cheese available on the side.
Love this recipe?
I am on social media too, follow me on Facebook, Twitter, Pinterest, Instagram, and Google+ today!