My recipe for Easy & Low-Fat Chinese Green Beans with Turkey Bacon is a a healthier adaptation of a traditional recipe with a modern twist.
This post was updated on 9/7/2023 with minor edits for readability.
Disclaimer: Please check that all ingredients are suitable for your allergies and be sure to ask your medical care team regarding any allergy related questions (I do not share medical advice). As an Amazon Associate I earn from qualifying purchases.
Jump to Recipe
Chinese Restaurant Style Green Beans Are Amazing
Chinese restaurant style green beans with pork are sometimes referred to "Dry Fried" Szechuan Green Beans because the beans are usually deep fried and then added to a savory ground pork stir fry. It's such a delicious dish but deep fried vegetables are not healthy for an everyday meal at home.
Chinese restaurant style green beans are sometimes referred to as "Dry Fried" Green Beans or Szechuan Green Beans. Although it's possible to steam or blanch the green beans first and then stir fry, one cannot recreate the unique flavor restaurant-style at home.
Deep frying the green beans cooks the green beans thoroughly and dehydrates the surface of the green beans, which makes them ready to absorb the savory flavors of the sauce. Instead of deep frying the green beans, I tried two different recipe modifications, wok searing and oven roasting, to see which way would turn out better.
Homestyle Adaptions: Wok Seared vs. Oven Roasted Green Beans
Wok seared: I preheated my wok at a high temperature until the wok started smoking, added 1 teaspoon of a high smoke point oil (I used grapeseed oil), and stir fried the green beans for 8-10 minutes until the green beans were cooked through but still crispy, some pieces were slightly seared with a hint of smokiness. If you don't have a wok, you can still achieve the same effect using a stainless steel frying pan.
Oven roasted: I preheated my oven broiler on high as I lined a rimmed baking sheet with foil for easy clean up (optional step) and tossed 1 teaspoon of oil with the green beans. I placed the baking sheet about 2 inches away from the broiler element (second from the top position) and after 3 minutes, I used tongs and tossed the green beans around. They looked partially bright green and returned them to the oven. I roasted them 4 more minutes and they were cooked through, some were crispy tender and some were soft tender.
Final results: After I proceeded with the rest of the recipe, I had my children try both versions. One son loved the wok seared crispy tender green beans and the other son loved the oven roasted tender and sweet green beans. Both ways are tasty, I personally think that the oven roasted green beans are evenly cooked, easier to make because it requires less time actively cooking at the stove, and I like the slightly smokey caramel flavor. But if you were in a place without an oven, you could still make this dish using the stove top method.
Allergy Aware Green Beans
After I cook the green beans, I set them aside and make the savory stir fry. Usually the next step is to stir fry some aromatics such as onions, ginger, and/or garlic. You can use small amounts of each of the ingredients or omit them if you don't like them or have allergies to them. I minced+ garlic to cut down on prep time.
Typically ground pork and dried shrimp are added next. In this recipe, I left out the dried shrimp to make the recipe more allergy friendly. When I don't have time to drive to an Asian market to buy freshly ground lean pork, I substitute with bacon. But because I want to reduce the fat, stir fried chopped turkey bacon is just as good.
Individuals who are vegetarian or vegan, may want to simply omit the bacon or use a few minced shitake mushrooms as a meat substitute.
The last step is to add the green beans into the aromatics and meat mixture and season everything with an assembled sauce mixture of soy sauce, rice wine, a pinch of sugar, and a bit of chili oil or a small amount of chili peppers if you like a spicy kick.
If allergic to soy or wheat, one can substitute with a soy-free soy sauce recipe or use other soy sauce alternatives. I want to make it simple and easy for myself and used only soy sauce and sugar. It's important to be fast after you add the sauce, stir fry long enough to coat the beans and season the savory bits of meat but transfer everything to a serving bowl before the soy sauce starts to burn in the wok.
If someone is allergic to string beans, one could substitute with asparagus but asparagus will cook much faster than string beans, maybe 5-6 minutes total roasting time.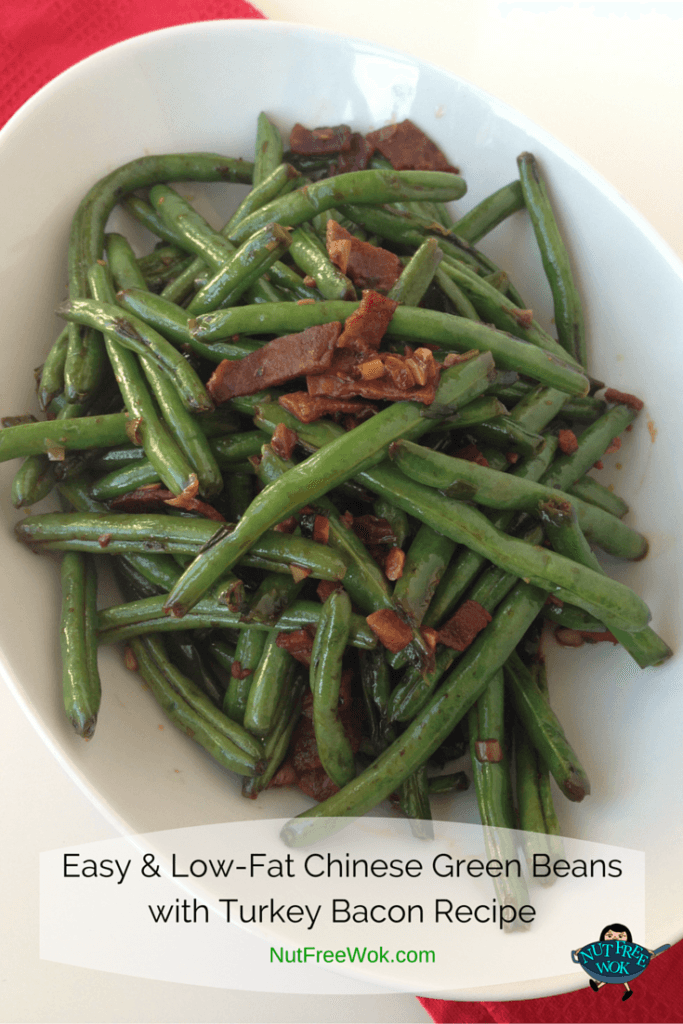 In Other News….Food Challenge!
In case you missed our big news, my younger son passed an almond oral food challenge at our allergist's office last week! That's a huge milestone for our family as my son used to react to traces of almonds yet he ate nearly 16 almonds during the challenge.
Our doctor wants him to eat them regularly to maintain his tolerance. Everyday I try to be non-chalant as if eating nuts were a normal everyday occurrence in our family but in the back of my mind, I'm ready to pounce on an epi and call 911 as needed. It's very hard to change my mindset after being on high levels of vigilance against accidental exposure for nearly 10 years.
It's been an uneventful experience for my younger son and I'm happy that he actually likes almonds. I wish we could revel in the freedom but my older son doesn't feel well being around the almonds. For his safety, we are going back to being a nut-free household by having my son eat his almonds outside in our yard while we do everything we can to prevent cross-contact and accidental exposure.
I'm not sure how is it possible how one can make a mental shift to protect one son by allowing him to eat nuts and to protect the other son from accidental ingestion. If anyone can relate or has any advice for me about what we're going through, please share in the comments. It's never a dull moment when it comes to food allergies but for now I just have to trust that we can walk this very fine line.
This recipe as written is free of peanuts, tree nuts, eggs, dairy, shellfish, and fish.
One can make it wheat and gluten free by using a gluten free tamari sauce or other soy sauce alternative. And the recipe can be adapted to be top 8 allergen free by using soy-free soy sauce (see links above). It's a traditional recipe with allergy aware and better for you adaptations.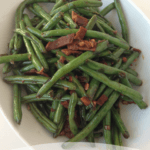 Easy Chinese Green Beans with Turkey Bacon Recipe
This recipe is an easy to make and better for you version of Chinese restaurant style Szechuan Dry Fried Green Beans. It is also easy to adapt to suit your dietary needs if you refer to the original blog post for ideas.
Ingredients
1

tablespoon

soy sauce

or equivalent substitute

1/2

teaspoon

sugar

1

pound

green beans

3

teaspoons

oil

divided (choose an allergy safe high smoke point oil, I use grapeseed oil)

1

clove

garlic

minced

1

piece

turkey bacon

chopped

2

stalks scallions

chopped
Instructions
Mix 1 tablespoon soy sauce and 1 teaspoon sugar in a small bowl until the sugar is dissolved, set aside.

Wash and trim green beans into 2 inch length pieces, pat dry with a paper towel.

Line a rimmed baking sheet with foil (if desired), add green beans, drizzle with 2 teaspoons of oil and toss until thoroughly coated.

Broil in oven on high heat and about 2 inches away from the broiler element (second shelf position from the top).

After about 3 minutes, use metal tongs and toss the green beans around so that they will cook on the other side.

Continue broiling for another 3-4 minutes, take the baking tray out of the oven when the green beans are evenly cooked, brightly colored, with a few charred marks and set aside.

Preheat a wok or a large stainless steel frying pan on medium-high for a few minutes until the wok or pan sizzles when a drop of water splashes on it.

Add the remaining teaspoon of oil and saute the minced garlic for 30 seconds (do not let it burn).

Add the turkey bacon and stir fry until the bacon is firm and almost crisp (2-3 minutes)

Add the chopped scallions and stir fry 30 seconds to 1 minute (depends on your tolerance for raw scallions).

Add the roasted green beans and sauce and stir fry until all the green beans are coated with sauce (about 1 minute), remove the wok from heat and plate the green beans.

Garnish with additional scallions as desired.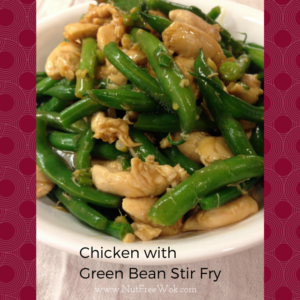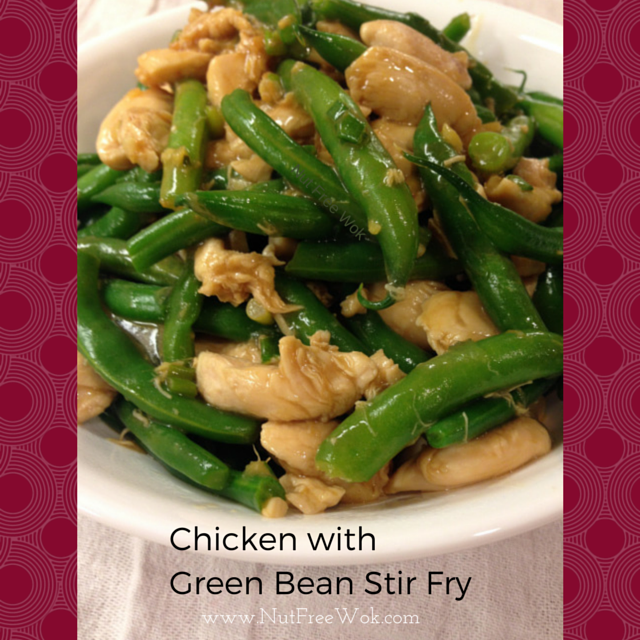 Thanks for reading, please help Nut Free Wok!
The best way to see every post or recipe is to subscribe to Nut Free Wok's email subscription (be sure to respond to the confirmation email). You will be notified by email next time I publish another post or recipe and I won't send you spam or share your email address with anyone.
If you enjoyed this post, please use the social media buttons below to share with others. I am on Facebook, Twitter, Pinterest, and Instagram as @nutfreewok and it's great to chat and interact on social media too.
Disclosure/Disclaimer:
I may mention the names of stores and/or brand names of products that I use because readers ask and I share products and sources which I use and think may be helpful to readers, all opinions are my own. Please note that manufacturing practices and ingredients can change at anytime without notice and readers are always responsible for assuring allergen safety before buying or consuming foods. NutFreeWok.com is a participant in the Amazon Services LLC Associates Program, an affiliate advertising program designed to provide a means for sites to earn advertising fees by advertising and linking to Amazon.com. Thank you for reading!