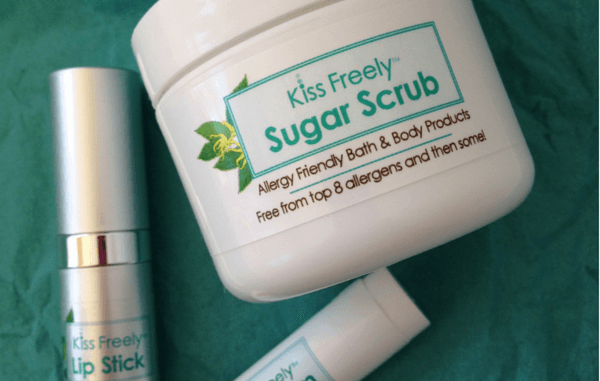 Introducing Kiss Freely: It's All About Love
Jennifer from Kiss Freely sent me some samples of her top 8 allergen free bath and beauty products to try and to review. I love the products and her family's story, I realized that their story and products are all about love, which can impact our lives in a positive way.
Update: Kiss Freely is now available on Amazon! It's a win-win if you use my affiliate link, thanks! http://amzn.to/28IXpI6
The Source of Kiss Freely's Inspiration: Parent & Child Love
We know that the love between a parent and child is very deep and strong, even more so when managing life threatening food allergies. One day Jennifer kissed her daughter and due to allergens in her lipstick, her kiss resulted in a red angry hive on her daughter's cheek. Jennifer created her first batch of lipstick and kissed her daughter without any ill effect. That was the inspiration for Kiss Freely and the creation of their top 8 allergen free cosmetic and bath products, which also avoid some other common allergens (sesame, shea butter, coconut, avocado, and mango).
Peace of Mind: Love for Others
I don't have any allergies to top 8 allergens but I don't use any products that have derivatives of peanuts or nuts. I have peace of mind that I won't accidentally cause an allergic reaction among my sons and other allergic individuals. I carry with me at all times a credit card sized magnifying  and a list of Latin roots so I can decode ingredient labels of personal care products. However, I really like Kiss Freely's top 8 allergen free products that takes the guesswork out of "is it safe or is it not?"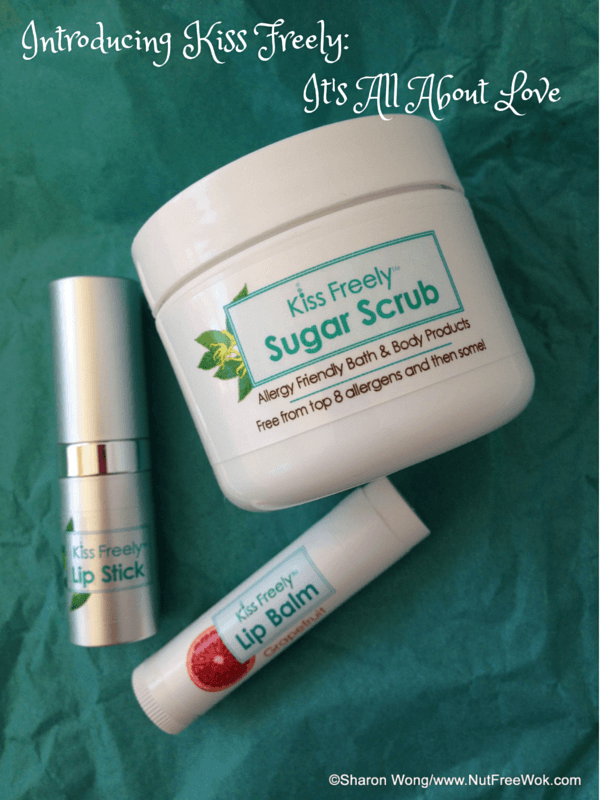 Self-Care: Love for Yourself
What are you doing to love yourself and take care of yourself? I am consistent about good hygiene but seldom slowdown to use the make up and hair styling products I've purchased. However when Jennifer sent samples of her products, I eagerly tried them and loved them. I enjoyed spending a few minutes everyday to make myself feel pretty and soft. I realized that even something as simple as using lip balm makes me feel happy, then I need to find more ways to take care of myself so that I can feel happy, productive, and loving towards my family and others.
Merlot Lipstick:
It's a fun lipstick to use. First time I apply it, it looks like a light stain and very natural. I apply a little more and I feel pretty. I apply another layer and I feel gorgeous with dramatic lips. The lipstick has a matte texture and I liked it with a layer of lip balm first. I accidentally broke the tip but am looking forward to using it everyday when Jennifer sends a replacement (thanks!!).
Grapefruit Lip Balm:
The lip balm makes my dry lips feel soft and moisturized. I had no idea my lips were so dry until I used the lip balm. It glides on smoothly and is great to use in addition to the lipstick.
Sugar Scrub:
This was my favorite product because I had no idea what to expect. I applied it, rinsed it off, and my skin was incredibly soft. It's one of those products that made me feel like I've been missing out. How did I not know how wonderful a sugar scrub would feel?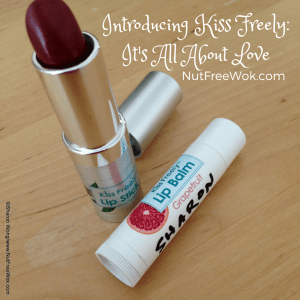 Thank you, Jennifer, for sharing your story of how you created Kiss Freely's top 8 allergen free beauty and bath products as a solution for your daughter and other families. It's all about love, love which motivates us to protect our loved ones, love which we can express when we Kiss Freely. <3
For more information check out Kiss Freely's website —> click here (affiliate link) and some of Kiss Freely's products are available via Amazon (affiliate link).
Thanks for reading, please show your support!
The best way to see every post or recipe is to subscribe to Nut Free Wok's email subscription (be sure to respond to the confirmation email). You will to be notified by email next time I publish another post or recipe and I won't send you spam or share you email with anyone.
If you enjoyed this post, please use the social media buttons below to share with others. I am on Facebook, Twitter, Pinterest, and Instagram as @nutfreewok and it's great to chat and interact on social media too.
Disclosure/Disclaimer:
I am disclosing that I received samples of Kiss Freely products and my review is based upon my opinion. I only share products with readers which I would use and think may be helpful to readers, all opinions are my own. Please note that manufacturing practices and ingredients can change at anytime without notice and readers are always responsible for assuring allergen safety before buying or consuming. NutFreeWok.com is a participant in the Amazon Services LLC Associates Program, an affiliate advertising program designed to provide a means for sites to earn advertising fees by advertising and linking to Amazon.com. Thank you for your support!