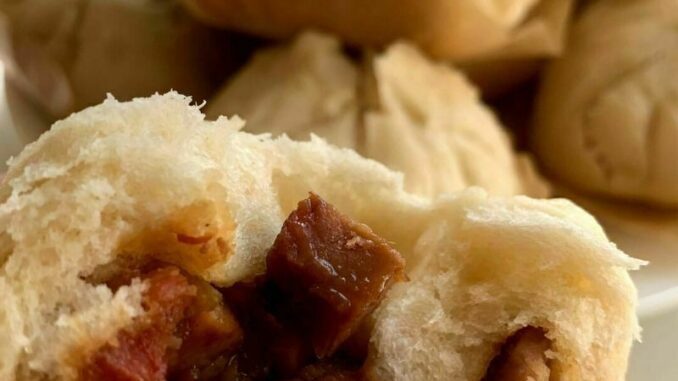 There is nothing better than biting into a freshly steamed homemade char siu bao, a steamed BBQ pork bun, with tender pieces of diced BBQ pork filling and sauce, surrounded by a tender, pillowy, sweet bread. My homemade char siu bao (steamed BBQ pork buns) look homey compared to restaurant made char siu baos but I prefer a homemade bao hands down any day!
Disclaimer: Please check that all ingredients are suitable for your allergies and be sure to ask your medical care team regarding any allergy related questions (I do not share medical advice). As an Amazon Associate I earn from qualifying purchases.
Jump to Recipe
Homemade is Best
One big difference between my char siu baos and dim sum restaurant made char siu baos is that I use all purpose flour, instead of a type of flour called Hong Kong flour. Hong Kong flour is supposedly superfine, bleached to look very white, and low in protein. While the very white baos are more traditional and have a cake-like texture, I prefer to use all purpose flour because it's easier to find and check regarding allergens.
Some people use cake flour to make bao but I like to keep things simple and substitute with all purpose flour and corn starch or tapioca starch.
There's minimal difference in appearance between unbleached all purpose flour and regular (bleached) all purpose flour, so since we're giving up on white-as-snow baos, use whatever all purpose flour you have (I usually use unbleached).
During recipe testing, I used up all of my corn starch and substituted tapioca starch, that worked out great, the baos had a little more "bite" to them but still tender.
I have used a steamed BBQ pork bun recipe from Ellen Blonder's Dim Sum: The Art of Chinese Tea Lunch: A Cookbook (affiliate). It's an excellent recipe but I feel a little bit of resistance to make it and the urge to procrastinate is strong because her recipe involves making a starter with extra steps and more wait times. I've adapted her recipe and simplified it by eliminating the starter and making the recipe more flexible.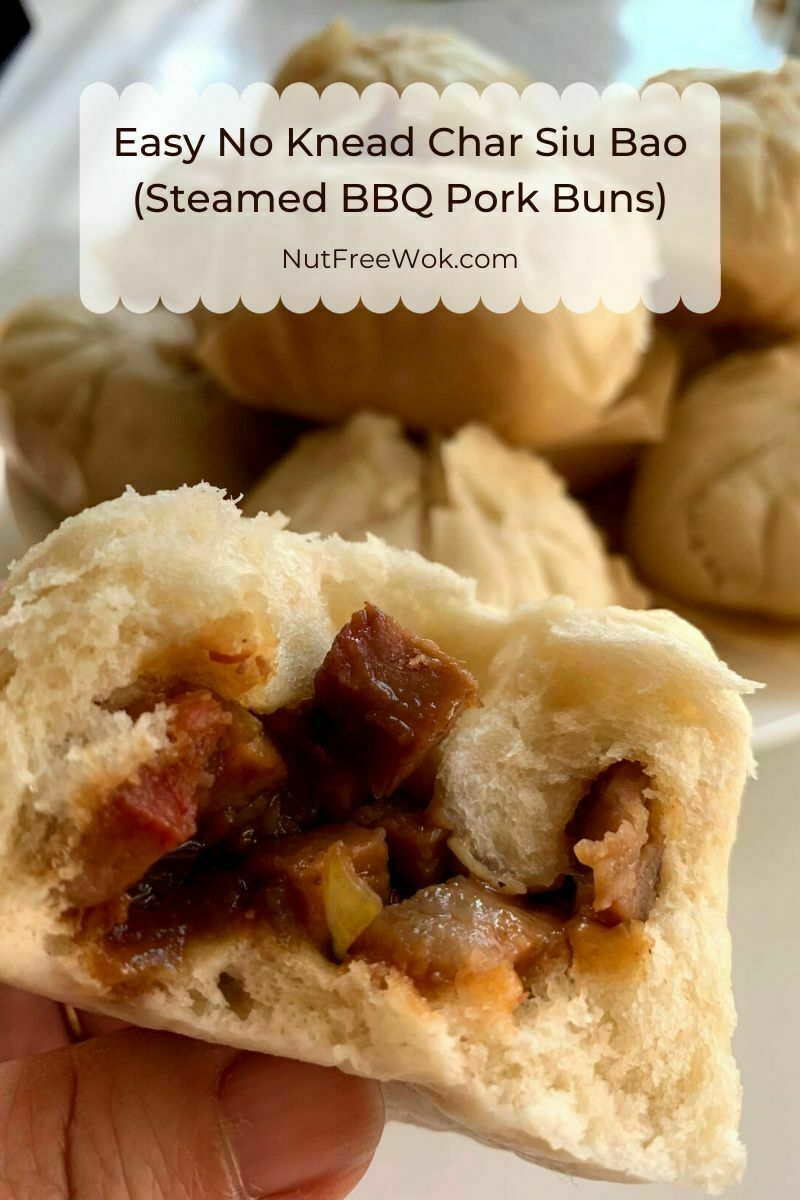 Allergy Aware Char Siu (BBQ Pork)
The most difficult ingredient to buy allergy wise would be the BBQ pork. I buy BBQ pork (char siu) from the hot deli counter at my local Asian market, they don't use any of our allergens in their kitchen but they don't promise that their foods are free from cross-contact either. We haven't had any issues but it might not be the best option for everyone.
The most common allergens in a Chinese hot deli would be soy, wheat, and sesame, if those are allergens of concern for you, I recommend that you try making my super delicious nut free, sesame free homemade char siu recipe, eat some for dinner, and save about 1 pound of leftovers to make char siu baos. I usually cook it in my oven but the one time my husband volunteered to barbeque it on our little weber grill, it was amazing, complete with a natural red smoked appearance around the meat.
Tender Dough Makes Pillowy Soft Baos – Four Tips
I have been working on this recipe for years and what I've learned over the years are the four following tips to help you make the best, most pillowy, soft, tender bread surrounding yummy morsels of BBQ pork:
Measure accurately: I fluff up the flour before measuring by scooping and dropping them back into the container and then I scoop and level with chopsticks or a knife. When I measure the warm water for the yeast in a glass measuring cup, I wait until the water stops moving and bend down so that my eyes are at counter level to check that the meniscus (lowest point of the water) is exactly at the 1 cup line.
Err on the side of shaggy and sticky. When you combine the yeast mixture and the flour mixture, you will want to fully incorporate all of the flour at the bottom of the bowl but sometimes it just won't come together because the flour was too compacted when you measured it or maybe the water level was just a touch short. It's okay to add a tablespoon of water to help pull the flour together. If the dough is a bit shaggy and sticky, resist the urge to add more flour. You can adjust later when you assemble the baos.
A light touch is all you need to make a soft pliable dough. I use a plastic bowl scraper to fold in the extra flour in the bowl into the dough. Once you see that the flour is fully incorporated, stop, cover the dough, and let it rise. It's not necessary to knead for a few minutes. Awesome, less work and more time for other things.
Give it a rest. When you roll out the dough to assemble the baos and you see the dough shrink smaller immediately, give it a rest and work on other pieces. If you allow the dough to rest a few minutes and go back to it a few minutes later, it will be soft and easier to roll out and pleat rather than spring back to whatever shape it wants.
What Does Pleating the Dough Mean?
My hands are not big enough and dextrous enough to hold the bao with one hand and pleat with the other, so I place the dough on my floured work surface, add the filling and hold an edge of the dough (let's say 12 o'clock) with my left thumb and index finger and hold the 2 o'clock position with my right thumb and index finger and bring the edges together into a Z-shape and pinch, and rotate my dough plus filling while pleating and pinching. I keep pleating until I've pleated the entire bun and then pinch close and place on a small square of parchment paper or a parchment paper cupcake liner.
Recommended Equipment:
Dough scraper: After making lots of char siu baos over the years, I've discovered that after a shaggy and sticky dough rises, it becomes a very easy to use and relaxed dough to assemble into cute little char siu baos. But the dough is so very sticky, I have a difficulty using my hands or a wooden spoon to stir it and then it becomes tempting to add more flour. Don't add more flour if your dough is sticky, use a dough scraper with rounded corners instead. I received a rounded plastic dough scraper (D shaped) (examples in the affiliate link) in a swag bag and it's the perfect tool for mixing, scraping all of the sticky dough out of the bowl, and cutting the dough into smaller pieces.
Steamer: You will need to set up a steamer, you can read about my "Steamy Cooking Tips" for more details on how to set it up. For the purposes of this recipe, I usually use a vegetable steaming basket on my short steaming rack in my 14 inch All Clad braiser and steam the buns six at a time. I replenish the pan with some water in between batches. But if I make a double batch, I use my large 2 tiered steamer. If you bought an electric skillet to make lots of cheung fun, you can also use it for this recipe.
Parchment Paper: I really dislike losing a bite of char siu bao that is stuck to the paper liner so I use parchment paper. It's food safe and doesn't stick at all. Either cut a sheet of parchment paper into approximately 2.5 inch squares or use parchment paper cupcake liners (affiliate link) for convenience.
Nail Brush: After you handle any dough with yeast, I highly recommend washing your hands thoroughly with soap and a nail brush (affiliate link) or at the very least, use the scrubby side of your kitchen sponge.
Allergy Aware Char Siu Baos
The recipe is free of peanuts, tree nuts, egg, milk, and fish as written. The recipe contains wheat because of the bread and sauces. I haven't tested a wheat or gluten free version of the recipe.
The recipe contains soy because of the hoisin sauce and possibly in the BBQ pork if you buy it from a Chinese deli. If you have a soy allergy, try making homemade char siu with plum sauce instead and use a little more of the other sauce ingredients. You might have to adapt my BBQ char siu pork recipe using my soy free soy sauce recipe.
Shellfish allergy – omit the oyster sauce and add one extra teaspoon of honey, hoisin sauce, and/or soy sauce.
Sesame allergy – I use Koon Chun hoisin sauce, which does contain sesame as an ingredient. If you are managing a sesame allergy, do not use hoisin sauce but a good substitute would be plum sauce, which tastes similar but is sweeter. I also recommend making char siu from scratch. My mom likes my char siu bao but loves it with home made char siu too.
If you like dim sum, you have to check out my other dim sum recipes, which include turnip cake, potstickers, beef chow fun, and beef rice noodle roll. If you like making Chinese style breads, I think you will like my The Best Raisin Bread Recipe (Tangzhong Method)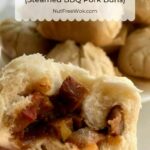 Homemade Steamed BBQ Pork Buns (Char Siu Bao) Recipe
Enjoy delicious homemade BBQ pork buns (char siu bao). It takes about 15 minutes to prep the easy dough recipe, come back to it a few hours later to make the filling and assemble the baos. You will be eating char siu baos within 4 hours but the recipe is flexible enough for you to prepare it overnight or in the morning and then assemble when you're ready.
Total Time
3
hours
30
minutes
Ingredients
1

packet yeast

2.5 teaspoon

1

cup

lukewarm water

approximately 1/3 hot, 2/3 room temperature

¼

cup

granulated sugar

2 ¼

cup

all purpose flour and ~¼ cup on the side for dusting

¾

cup

cornstarch

1

tablespoon

baking powder

½

teaspoon

salt

2

tablespoons

and 1 teaspoon olive oil

divided

1

pound

cooked char siu*

bbq pork

1

tablespoon

hoisin sauce

1

tablespoon

honey

1

tablespoon

oyster sauce

1

tablespoon

soy sauce
Instructions
Make the dough:
Combine the yeast, lukewarm water, and sugar in a 2 cup measuring glass or medium bowl, stir to dissolve the sugar and break up any lumps of yeast, and set aside for 10 minutes until the yeast is foamy (so you know it's alive).

In the meantime, combine 2 ¼ cup all purpose flour, cornstarch, baking powder, and salt in a large mixing bowl and create a well in the center.

Pour the yeast mixture and 2 tablespoons of olive oil into the well and stir together with a wooden spoon or fork until a shaggy dough forms.

Use your hands or a plastic curved bowl scraper to incorporate the flour at the bottom of the bowl into the dough.

If there's a lot of flour at the bottom of the bowl or if the dough is stiff, add a tablespoon of water and knead until the dough is soft and pliable.

If the dough is very wet, add a tablespoon of flour and gently knead until the dough is slightly sticky and still soft and pliable.

Cover with some plastic wrap, drape with a clean dish cloth, and allow the dough to rise in a warm draft proof place until the dough is doubled in size (approximately 2 hours) or refrigerate overnight.
Make the filling:
Dice the char siu into small pieces (discard any charred edges and large pieces of fat if you don't like eating those parts).

Heat up a medium frying pan, drizzle 1 teaspoon olive oil, swirl to coat.

Add diced char siu and stir fry for one minute, until heated thru and slightly sizzling.

Add honey, hoisin sauce, soy sauce, and oyster sauce to the char siu and stir fry for 1 minute until the sauce thoroughly coats the char siu, starts to bubble slightly and thickens, remove the frying pan from heat and allow the char siu mixture to cool.
Assemble the baos:
Set up your steamer with a rack and approximately 1 inch of water, and bring to a boil on low heat. Cut parchment paper into 2 inch squares or use parchment paper cupcake liners.

Lightly dust your hands, a rolling pin, and a cutting board or other clean work surface with flour.

Use a scraper or sturdy spatula to scrape the dough on to your work surface, sprinkle a little bit of flour on the top, and gently roll the dough and shape into a log. Cut into 12 pieces and use lightly floured hands to shape each piece so that it's round and flat (like a hockey puck).

Use a rolling pin to roll dough flat, approximately ¼ inch thick and 4 inches wide, sprinkle a pinch of flour on your rolling pin and work surface if the dough seems sticky.

Spoon 2 tablespoons of filling into each center, and pleat the dough, and pinch close.

Place each bao on a parchment paper square or cupcake liner and repeat until 6 baos are assembled.

Check on the steamer, raise the temperature to medium-high heat, and carefully place the baos in your rack. Be careful to balance the baos (place them on opposite sides rather than clockwise) so that the rack doesn't tip over into the water. Steam the baos for 10 minutes as you work to assemble the rest of the baos.

When the baos are ready, remove the lid without dripping any condensation onto the baos, use tongs to transfer the baos to a plate, replenish the steaming water as needed, and continue steaming and assembling.

The baos are best served warm and freshly steamed.

Allow any remaining baos to cool to room temperature, wrap or store in an airtight container. Reheat by steaming for a few minutes or by covering with a damp paper towel and microwaving for 30-60 seconds.
Recipe Notes
*You can make your own Chinese style char siu (bbq pork) if you like, enjoy some for dinner and reserve about 1 pound for making char siu baos. https://nutfreewok.com/bbq-pork-char-siu-recipe/
Thanks for reading, please help Nut Free Wok!
The best way to see every post or recipe is to subscribe to Nut Free Wok's email subscription (be sure to respond to the confirmation email). You will to be notified by email next time I publish another post or recipe and I won't send you spam or share your email address with anyone.
If you enjoyed this post, please use the social media buttons below to share with others. I am on Facebook, Twitter, Pinterest, and Instagram as @nutfreewok and it's great to chat and interact on social media too.
Disclosure/Disclaimer:
I may mention the names of stores and/or brand names of products that I use because readers ask and I share products and sources which I use and think may be helpful to readers, all opinions are my own. Please note that manufacturing practices and ingredients can change at anytime without notice and readers are always responsible for assuring allergen safety before buying or consuming foods. NutFreeWok.com is a participant in the Amazon Services LLC Associates Program, an affiliate advertising program designed to provide a means for sites to earn advertising fees by advertising and linking to Amazon.com. Thank you for your support!