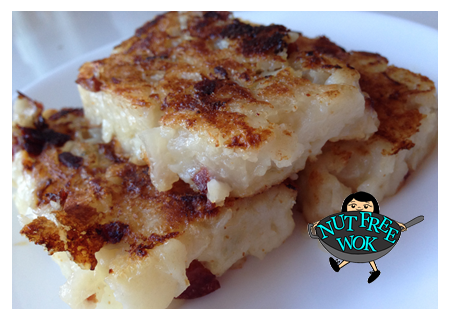 My sons, who do not speak any Chinese, can definitely speak "Dim Sum" and ask for their favorite dishes. It seems like a distant memory but there was a time when our family could go to any Chinese Dim Sum restaurant and order anything we liked to eat prior to our food allergy diagnosis. We no longer can go to any dim sum restaurant nor order anything we like but we do have one restaurant that we like to go to during their non-peak days and times. The owner understands our concerns as he has some food restrictions as well, the waitstaff take my boys' food allergies seriously and practically dote on them with their kindness and concern. Eating at a Chinese restaurant is not for everyone, but because our family can communicate with them in Chinese, understand the menu, and are not allergic to soy or wheat, it is a manageable dining out experience. My sons zero in on the servers who bring around trays of turnip cake, also known as daikon cake or lo bak go in Cantonese, and we often have to order two dishes as one is not enough. So what's a food allergy mother to do? Learn how to make turnip cake in between visits to the dim sum restaurant and call making dim sum a hobby!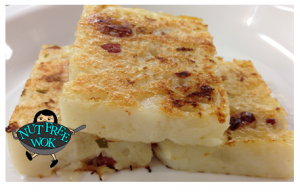 What is turnip cake? It is a steamed rice cake with pieces of daikon in them, sometimes with Chinese sausages, dried shrimp, preserved turnips, cilantro, and/or green onions. Then the cake is sliced and pan-fried until the outside is crispy but the inside is soft and hot. We know to watch for the server carrying a tray of pan-fried morsels of dim sum will have little plates containing 3 pieces of turnip cake. It is also a special Chinese New Year dish because the Chinese word for turnip, 菜頭 (Cài tóu) sounds like 好彩頭 (Hǎo cǎitóu), which means good luck, and part of the Chinese culture is to eat things which sounds prosperous and lucky.
I don't recall my mom ever making turnip cake so I looked up recipes in cookbooks and online to learn on my own. I like the clear instructions from Ellen Blonder's Dim Sum: The Art of Chinese Tea Lunch but I discovered a few lo bak go making tips along the way which led to the recipe below.
Select daikons about 1 to 11/2 inches in diameter. They are easier to grate and chop and have a milder flavor. Some recipes call for grated daikon which yields an easy to slice and handle turnip cake. Other recipes call for diced daikon which yields tasty morsels of turnip that fall out of very soft rice cake. My happy medium is to dice half of the daikon and grate the other half as the texture and ease of handling is perfect.
My early tries at making lo bak go tasted strong and peppery, almost bitter. One of my mom's friends, Auntie Bak Yu, suggested that I salt the prepped daikon and then squeeze out the liquid as the salt draws out some of the strong flavor. My mom suggested cooking in chicken broth rather than water.
I have discovered that adding rice flour to cooled daikon and broth results in layered daikon cake where the daikon is on top and the rice flour is on the bottom. It is important to add the rice flour and water mixture to very hot daikon and broth mixture and stir until it looks like mashed potatoes. I have also discovered that adding rice flour directly into the hot daikon and broth results in lumpy daikon cake, so blending the flour with water is important.
This dish is relatively simple and easy, but it is a labor of love that takes 1 day lead time to prepare. For that reason, I double the recipe as it is not too much more trouble to double the ingredients and besides pan frying time, it doesn't take too much extra time. I pan fry all of it in 3 batches using a 14 inch frying pan or I use 2 frying pans at the same time to save time.
Vegan option: One can make the turnip cake completely vegan by using vegetable broth and leaving out the shrimp and sausages and sautee the mix-in ingredients in a tiny bit of olive oil and the carrots, green onions, and cilantro will provide some nice color and textures.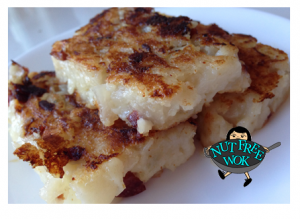 Allergy aware notes:
Rice flour: I have had the best results from using Erawan brand rice flour (in a red bag, the logo is a three headed elephant), it is a well-known brand mentioned in gluten free cookbooks and inexpensive to purchase from Asian markets (less than $2). I have used it for years but haven't been able to verify that it is nut-free. However, I have been able to confirm that the Flying Horse brand (also in a red bag) is nut free. Also Koda Farms makes rice flour in a rice only facility but you may need to order by mail. I have also used Arrowhead Mills Brown Rice Flour after discussing with them at length about their allergen policy. No matter what brand you buy, be sure to buy "rice flour" not glutinous rice flour (usually in a green bag), which is made from sweet rice and will yield a different texture.
Shrimp allergy: Most restaurant prepared turnip cakes will contain dried shrimp but the beauty of making it yourself, is that you can omit the shrimp and substitute diced carrots if you want.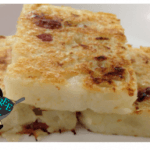 Dim Sum: Turnip Cake
Ingredients
2

daikons

1 1/2 inch diameters

1/2

teaspoon

salt

4

cups

chicken broth

or vegetable broth

2

Chinese sausages

"lap cheong" (optional or substitute bacon)

1/2

teaspoon

olive oil

optional

1/4

cup

diced carrots

optional

2

tablespoons

dried shrimp

optional

2

green onions

chopped (optional)

1/4

cup

cilantro

chopped (optional)

1

teaspoon

soy sauce or soy alternative

optional

1/4

teaspoon

sugar

optional

3 1/2

cups

rice flour

1 pound bag

1/2

teaspoon

salt

1

teaspoon

sugar

2

cups

water

Oil as needed
Instructions
Brush some oil on a 2 quart casserole that will fit inside a large stock pot (8 quarts or larger), set aside.

Fill a large stock pot (8 quarts or larger) with 1 1/2 inches of water with a steamer rack and set on low heat until step 12.

PREPARE DAIKON: Peel and grate the daikons into a bowl or a fine colander, dice the last 2 inches.

Salt with 1/2 teaspoon salt and set aside for 30 minutes.

Squeeze some of the daikon liquid out.

Boil the daikon with 4 cups of broth in a 4 qt or larger pot with a lid on and then simmer on low to medium heat for 30-40 minutes, until the liquid is reduced by half.

PREPARE DESIRED MIX INS: cut the Chinese lengthwise into quarters and dice, chop green onions, cilantro and carrots; rinse and soak dried shrimp in a tiny amount of water for 10 minutes and then coarsely chop.

IF USING Chinese sausage or bacon, then render fat in a small frying pan on low heat, and when the sausage/bacon starts to sizzle, stir fry in the chopped carrots or dried shrimp for a few minutes.

IF NOT USING Chinese sausages or bacon, then stir fry the desired mix-in ingredients (carrots, shrimp) in 1/2 teaspoon of oil for a few minutes.

Season the mix in ingredients with 1 teaspoon of soy sauce (or alternative) and 1/4 teaspoon sugar, remove from heat and set aside.

ASSEMBLY: Check the water level of the stock pot and raise the temperature to medium high so that the water is bubbly and boiling.

Add rice flour, 1 teaspoon sugar, and 1/2 teaspoon salt into a medium bowl and stir in 2 cups of cold water until the batter is smooth and not lumpy.

Increase the heat of the daikon and broth to a rolling boil, remove from heat and immediately pour in the rice flour batter and stir quickly.

Add the mix-in ingredients and stir (the mixture should resemble mashed potatoes if 1) the daikon is boiling hot and 2) the broth is reduced)

Transfer the daikon and rice flour mixture to the prepared casserole and steam for 60 minutes on medium high heat.

Allow daikon cake to cool to room temperature, then cover and refrigerate overnight.

FRYING; Preheat the frying pan on medium heat.

Turn the casserole upside down on a cutting board and give a few taps, the daikon cake should slide out.

Cut the cake into quarters and cut each quarter into 1/2 slices.

When the pan feels hot when you hold your hand over it, add 1/2 teaspoon of oil and swirl to coat pan (use non-stick cooking spray if eggs/pancakes stick to it).

Pan fry for 10-12 minutes until crispy and slightly browned and if your frying pan sticks, use a little non-stick spray on the tops of the turnip cake before flipping over to pan fry for another 10-12 minutes.

Garnish with chopped onion or chopped cilantro for a pretty presentation (optional) and enjoy!
Love this post and want more?