Scallion pancakes are a pan fried Chinese flat bread appetizer that are savory, slightly chewy, with bits of chopped green onions embedded in between layers of carbilicious layers of dough.
When served hot and fresh, they're crispy and smell wonderful. When my sons were little, they didn't like eating their vegetables and my husband and wanted them to eat something green. Scallion pancakes were a carbilicious way to introduce our sons to delcious green vegetables and something we would order when we went out to eat. Thankfully our sons eat a lot more vegetables now and one of them likes to have a little bowl of chopped scallions to sprinkle on his food!
Do It Yourself, Kids!
I always thought that scallion pancakes were a food item that could only be ordered in a restaurant until my friend, Cindy, made it right before my eyes when we went to her house for dinner. When I saw a recipe in Family Fun magazine, I realized that even kids can make it. When my sons were old enough to read, I printed out my recipe and let them make scallion pancakes from scratch. They measured, mixed, chopped, and rolled while I helped them with the pan-frying. It's a fun and easy recipe to do together.
Healthier Modifications
I can't remember the original inspiration for this recipe, possibly from my friend Cindy or a cookbook (apologies for not being able to attribute appropriately). I remember wanting to improve the nutrition by using what makes this recipe different is that I use less oil for fewer calories. You can easily substitute whole wheat all purpose flour or 50/50 if you prefer. Some recipes use up to 1/2 cup of oil which seems like a lot of oil and makes the assembly challenging. I use non-stick cooking spray with a non-stick frying pan but sometimes I fry with 1/2 to 1 teaspoon per pancake. Now that I know how to make our own scallion pancakes, I prefer to make them at home and know that we are using organic ingredients. Some restaurants make them perfectly but not always (too oily, too browned, etc..).
Make Ahead and Freezer Friendly
Best of all, this recipe can be made ahead and frozen: roll them out, wrap or layer each pancake with parchment paper, and freeze inside a zippered gallon size plastic bag.
Allergy Aware Scallion Pancakes:
This recipe is fairly simple with wheat being the only top 8 allergen. I do have a wheat-free, gluten free version of this recipe to share in another blog post. Some recipes share a dipping sauce made of soy sauce, rice vinegar, sugar, ginger, and green onions. I personally think that scallion pancakes are just delicious plain and if you agree too, then the recipe is soy-free too! Othewise, you can make a dipping sauce from 2 tablespoons each of rice vinegar and soy sauce, 2 tablespoons of chopped scallions, 1 teaspoon each of sugar and grated ginger.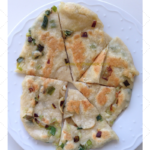 Scrumptious Scallion Pancakes
Ingredients
2

cups

all purpose flour

2

cups

whole wheat all purpose flour

1

cup

boiling hot water

¼

cup

water

room temperature

1

bunch of scallions

6-8 stalks

3/4

teaspoon

salt

or to taste

1.5

tablespoon

olive oil

Non-stick cooking spray

or up 1 tsp of oil per pancake
Instructions
Whisk the all purpose and whole wheat all purpose flour together in a large bowl, set aside 1 cup of the mixture for kneading and rolling, make a well with the flour in the bowl.

Add hot water and begin mixing with a wooden spoon.

Add cold water and continue mixing until the dough starts to form a ball.

When most of the flour has been incorporated, begin kneading the dough on a floured work surface for 5-7 minutes until the dough is soft, smooth and elastic, adding small amounts of flour until the dough is not sticky.

Wrap the dough with plastic wrap and allow to rest 30 minutes at room temperature.

Wash, trim, and chop the scallions and place into a medium sized bowl.

Add salt and 1.5 tablespoons of oil and mix thoroughly, set aside.

When the dough is ready, lightly flour a cutting board and rolling pin, and cut the dough into 4 pieces and gently pat each quarter into the shape of a disk.

Preheat a non-stick frying pan on medium heat.

Flatten a disk with a rolling pin to 1/4 in thickness, about 7 inches across.

Spread 1/4 of salt and onion mixture on the pancake, leaving a 1/2 inch margin around the perimeter, roll up the dough, coil the roll into a circle, and tuck the end of the roll under the dough.

Gently flatten the dough with your hand into a circle and then gently flatten the circle into a pancake into a ½-1/4 inch thickness, about 6 inches across (sometimes the green onions ooze out at this stage, it's ok, tuck the green onions back in and for the remaining pancakes, just roll the dough thicker next time around and use less green onions).

Spray the frying pan with nonstick cooking spray (or add 1 teaspoon of oil if you don't use non-stick cooking spray) and fry the pancake for 3 minutes until golden brown.

While the first pancake is frying, form the rest of the dough and green onions into pancakes.

Flip the pancake over when the bottom is golden brown and crispy (about 3-5 minutes) and pan fry until golden brown and slightly crispy on both sides.

Repeat until all the pancakes are assembled and fried.

Cut into 8 wedges and serve.
Recipe Notes
This recipe can be made ahead, place a piece of parchment paper between each layer, slide into a resealable gallon sized bag, and freeze. See blog post for a recipe for a simple dipping sauce.