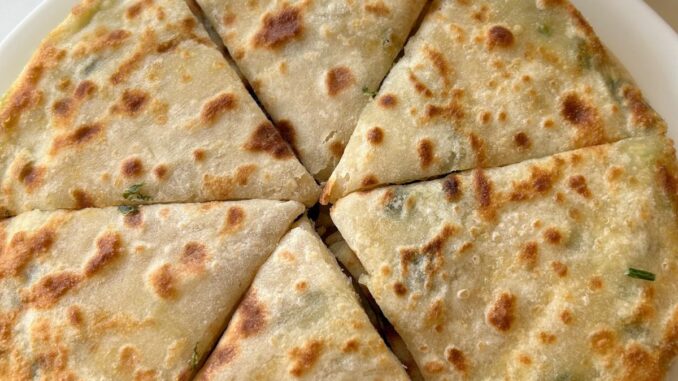 Scallion pancakes are a pan-fried Chinese flat bread appetizer that are savory, slightly crispy, with bits of chopped green onions embedded in between layers of a chewy wheat dough. When served hot and fresh, they're crispy and smell wonderful. Scallion pancakes are also called 蔥油餅 in Chinese (cōngyóubǐng in Mandarin and sounds like chong yo bang in Cantonese). This post was originally published on September 1, 2014 and the recipe and photo were updated on June 6, 2023.
Disclaimer: Please check that all ingredients are suitable for your allergies and be sure to ask your medical care team regarding any allergy related questions (I do not share medical advice). As an Amazon Associate I earn from qualifying purchases.
Jump to Recipe
Kid-Friendly Recipe
When my sons were little, they didn't like eating their vegetables and my husband and wanted them to eat something green. Scallion pancakes were a delicious way to introduce our sons to delicious green vegetables and something we would order when we went out to eat. Thankfully our sons eat a lot more vegetables now and one of them likes to have a little bowl of chopped scallions to sprinkle on his food!
I thought that scallion pancakes were a food item that could only be ordered in a restaurant until my friend, Cindy, made it when we went to her house for dinner. When I saw a recipe in Family Fun magazine, I realized that even kids can make it.
When my sons were old enough to read, I printed out my recipe and let them make scallion pancakes from scratch. They measured, mixed, chopped, and rolled while I helped them with the pan-frying. It's a fun and easy recipe to do together.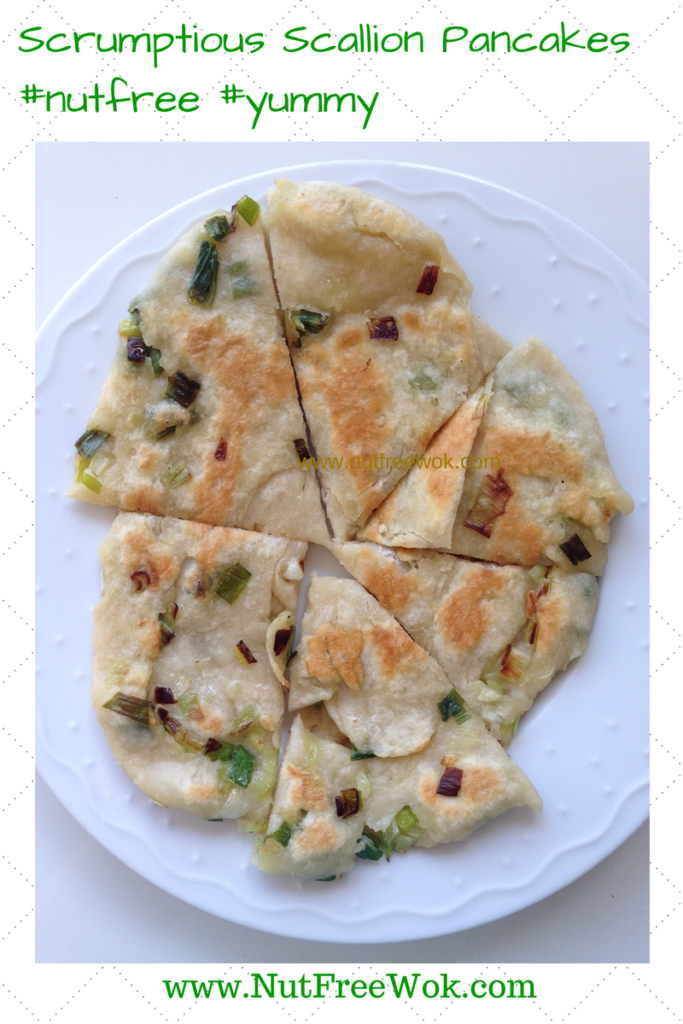 Homestyle Benefits: Healthier, Tastier, & Efficient
Over the last 5 years, I see more Chinese restaurants is using a batter to make a thick crepe-like scallion pancake. I can see how that might be practical for a restaurant, but I still prefer the texture of a traditional recipe. I've also tried the frozen scallion pancakes from Trader Joe's (has allergen advisories) and it's too high in saturated fat for me to eat on a regular basis. Making yummy scallion pancakes from scratch seems to be the best option for many reasons.
Some scallion pancake recipes use up to 1/2 cup of oil which seems like a lot of oil for pan-frying and/or for the scallion filling, which makes the assembly messy. I can get by with frying the pancakes with much less oil, approximately 1 teaspoon of oil per pancake. I've also used non-stick cooking spray which works but will leave a sticky residue in your pan and require more clean up.
When I first published this recipe, I use half all purpose flour and half whole wheat flour which is a better option. However, I don't bake enough and use up our whole wheat flour fast enough before it spoils, so I updated the recipe to use all all-purpose flour.
This recipe can easily be made ahead and frozen: roll them out, wrap or layer each pancake with parchment paper, and freeze inside a zippered gallon size plastic bag on a flat surface at least until they're frozen. You don't even need to thaw the pancakes.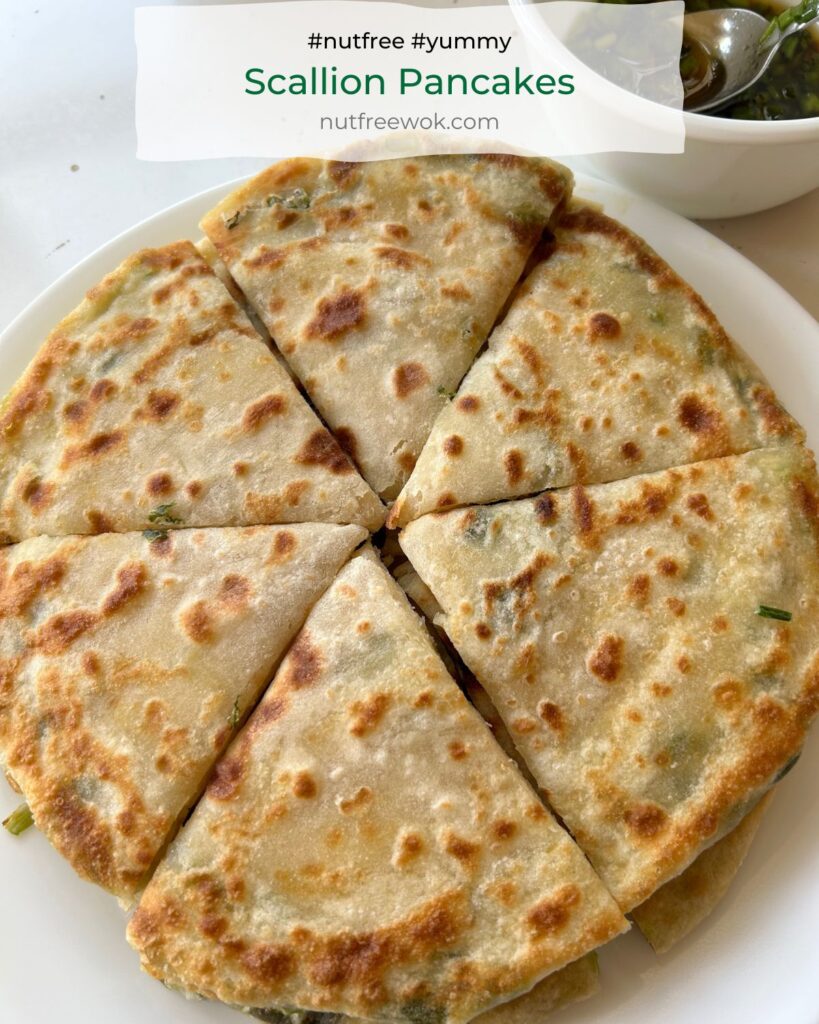 Allergy Aware Scallion Pancakes:
This recipe is fairly simple with wheat being the only top 9 allergen. I do have a wheat-free, gluten free version of this recipe to share in another blog post.
I personally think that scallion pancakes are just delicious plain! Some recipes share a dipping sauce made of soy sauce, rice vinegar, sugar, ginger, and green onions.
Optional dipping sauce ideas: You can make a dipping sauce from 2 tablespoons each of rice vinegar and soy sauce, 1 tablespoon of chopped scallions, 1 teaspoon each of sugar and grated ginger.
I recently made a lower sodium dip from 1 tablespoon chopped scallions, 2 tablespoons of sesame oil, 4 tablespoons of ponzu sauce. If you like a little bit of spice, use equal parts chili oil, soy sauce, and rice vinegar.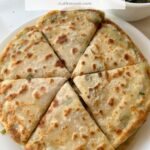 Scrumptious Scallion Pancakes
Total Time
1
hour
10
minutes
Ingredients
4

cups

all purpose flour

divided

1

cup

boiling hot water

¼

cup

water

room temperature

1

bunch of scallions

(6-8 stalks)

3/4

teaspoon

salt

divided

1.5

tablespoon

olive oil

additional oil for frying
Instructions
Combine 3 1/4 cup flour with 1/2 teaspoon salt in a large bowl, make a well with the flour. Set aside the remaining flour for kneading and shaping.

Add hot water and begin mixing with a wooden spoon.

Add cold water and continue mixing until the dough starts to form a ball.

When most of the flour has been incorporated, begin kneading the dough on a floured work surface for 5-7 minutes until the dough is soft, smooth and elastic, adding small amounts of flour until the dough is not sticky.

Wrap the dough with plastic wrap or cover with a large bowl and allow to rest 30 minutes at room temperature.

Wash, trim, and finely chop the scallions and place into a medium-sized bowl.

Add the remaining salt and 1.5 tablespoons of oil to the scallions and mix thoroughly, set aside.

When the dough is ready, lightly flour a cutting board and rolling pin, and cut the dough into 4 pieces and gently pat each quarter into the shape of a disk. Flatten a disk with a rolling pin to 1/4 in thickness, about 7 inches across.

Spread 1/4 of the salt and onion mixture on the pancake, leaving a 1/2 inch margin around the perimeter, roll up the dough, coil the roll into a circle, and tuck the end of the roll under the dough. Allow the coils to rest and keep the dough moist by covering them with plastic wrap (or a large bowl) while shaping the other pieces dough.

Gently flatten the scallion filled coils with your hand into a circle and then use a rolling pin to gently flatten the circle into a pancake into 1/4 inch thickness, about 7 inches across.

Preheat a non-stick frying pan on medium heat (allow 3-5 minutes).

Add 1 teaspoon oil and swirl to coat. Add the pancake and pan fry the pancake for 2-3 minutes until golden brown. Flip and fry until golden brown and crispy on both sides. Add more oil if the pan is dry.

While the first pancake is frying, roll out the rest of the scallion coils and fry until they're all fried. You can also roll them out and freeze half for another day.

Cut into 6-8 wedges and serve.
Recipe Notes
This recipe can be made ahead, place a piece of parchment paper between each layer, slide into a resealable gallon sized bag, and freeze. See blog post for a recipe for a simple dipping sauce.
You can also substitute half of the all purpose flour with whole wheat flour if you like. If working with whole wheat flour, I recommend that you start with 3 cups of the blend and add more flour as needed. 
If you like this recipe, you might also like these related recipes
If you like working with dough, you might like my recipe for Make Chicken Potstickers From Scratch Recipe. However, if you like potstickers but don't want to make the wrappers from scratch, you make Chinese Potstickers Recipe: Pork & Napa Cabbage, which are also great a snack or appetizer option.
I grow scallions in my backyard and sometimes I have a lot of scallions, so I might make some Ginger and Scallion Sauce, A Dip to Relish! to serve along with a "Bok Cheet Gai" Slow Cooker Chinese White Cut Chicken. If there's any leftover ginger and scallion sauce, I would add them to Aromatic Cilantro Onion Ginger Fried Rice or to any of my Chinese fried rice recipes for extra flavor.
Thanks for reading, please help Nut Free Wok!
The best way to see every post or recipe is to subscribe to Nut Free Wok's email subscription (be sure to respond to the confirmation email). You will be notified by email next time I publish another post or recipe and I won't send you spam or share your email address with anyone.
If you enjoyed this post, please use the social media buttons below to share with others. I am on Facebook, Twitter, Pinterest, and Instagram as @nutfreewok and it's great to chat and interact on social media too.
Disclosure/Disclaimer:
I may mention the names of stores and/or brand names of products that I use because readers ask and I share products and sources which I use and think may be helpful to readers, all opinions are my own. Please note that manufacturing practices and ingredients can change at anytime without notice and readers are always responsible for assuring allergen safety before buying or consuming foods. NutFreeWok.com is a participant in the Amazon Services LLC Associates Program, an affiliate advertising program designed to provide a means for sites to earn advertising fees by advertising and linking to Amazon.com. Thank you for reading!