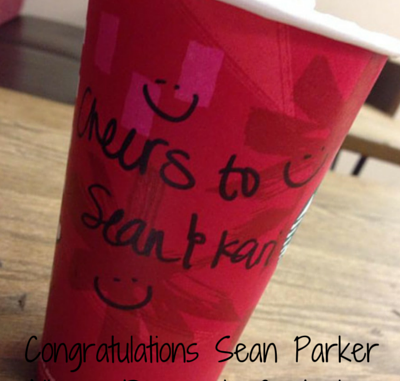 24 Million Reasons to Hope for a Food Allergy Cure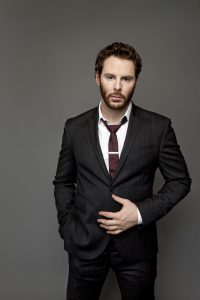 Breaking news: Silicon Valley entrepreneur and philanthropist Sean Parker (of Napster and Facebook fame) is donating $24 million dollars to food allergy research at Stanford Allergy Center (SAC, formerly Stanford Alliance for Food Allergy Research a.k.a. SAFAR) which will now be known as the Sean N. Parker Center for Allergy Research at Stanford University. Dr. Kari Nadeau will lead the center as it's director.
(Whoo-hoo! Jumping up and down! HAPPY DANCE! Yay, best news ever!)
I have been so emotional the past few days with joy and happiness about my son's progress as a peanut patch trial participant (more on that later) under the care of Dr. Nadeau and her team at the Stanford Allergy Center. This donation is very meaningful because it forever lays the foundation of the Stanford Allergy Center as the Sean N. Parker Center for Allergy Research at Stanford University. Huge congratulations are in order to Sean Parker, Dr. Nadeau, the research and medical staff, the SAC community members and volunteers because they persisted and believed in the vision of advancing food allergy research with great success so far. The center needed to raise $38 million dollars total, $11 million was raised as of May 2014, Jeff Bezos and family gave a $2.24 million matching grant, and now Mr. Parker's donation makes the center that much closer to becoming reality.
It's been an amazing experience to watch the growth and development of the center happen before my eyes. Kim Grosso Yates asked Dr. Nadeau to help her daughter with her life threatening allergies. As shared in the New York Times article, "The Allergy Buster: Can a Radical New Treatment Save Children With Severe Food Allergies?" Dr. Nadeau went without her salary for 3 years in order to work on her research studies and clinical trials. Despite the huge breakthroughs in the multiple allergen oral immunotherapy studies with xolair, they needed more funding back in 2012 to add additional studies. As parent of a child who was on a long waiting list, I remember the feeling of great disappointment with a box of tissues as company. Many thanks to Kim, Diane Eiger, Leslie Adato, Julie Bitler, Caroline Chen, Shirley Orsak, Michelle Sandberg, Chris Suroweic, Melissa Kepner, and countless volunteers who never faltered in their support of Dr. Nadeau's vision and persisted in their efforts to support food allergy research through SAFAR. Sean Parker's $24 million dollar donation will make dreams come true and change the lives of countless families.
News of the generous donation made waves on the internet this morning
Forbes technology reporter Steve Bertoni asked Parker, "Sean, did you create the research center to cure yourself?" and I loved Parker's reply, "The most important thing is to cure kids. This should be a curable disease but all we've done is put band-aids on it. We've been treating symptoms for 100 years. The scariest thing is for parents. You can't be with your kids 24 hours a day–they'll be in school and at friends' houses. There is a lot of social pressure just to eat things and not ask questions–there is even bullying. It happened to me. Once kids found out I was allergic to peanuts, they'd try to smear peanut butter on me–that could have killed me." As a parent of children with food allergies and as an advocate, I read stories about life threatening reactions and food allergy related bullying every day, but this news just made it on Forbes. Our community has been given the gift of awareness about the seriousness of life threatening allergies and some of the socio-emotional reasons why we need to find a safe treatment.
TechCrunch reporter Sarah Buhr wrote that "Parker noted over the phone that the new Center for Allergy Research would be on an aggressive course with the goal of finding a cure in the next 5-10 years. The plan is to expand beyond the halls of Stanford to take these trials globally at some point." I have heard Dr. Nadeau speak passionately about her desire for collaborative studies with other research centers as well as her vision for the roles of laboratory research and clinical trials. The Nadeau Laboratory is advancing laboratory research by developing better blood tests and she has treated over 700 patients in various desensitization programs. What speaks to me most is their mission statement, "Our mission is to transform the lives of our patients and families through innovative science and compassionate care." Compassionate care is the center's motivation to significantly improve the quality of life of families living with food allergies.
From Breaking Point to Breakthrough
As some of you know, the news of all the food allergy deaths and "just shoot them"-gate last month was a food allergy breaking point for me. And then within days, the food allergy community learns that Edward, Casey, Nutan, and Paige also died due to anaphylaxis, too many lives lost, too tragic, unthinkable. Now thanks to Parker's donation and Dr. Nadeau's tireless research, we have hope of a viable and safe treatment, perhaps even a cure, perhaps we will soon know the cause of this epidemic and be able to fix it. We went from breaking point to breakthrough in a matter of days.
Personal Thanks to my Friends and Family
I have quipped that I will be advocating and fundraising for food allergy awareness and research until there is a cure. I see an end in sight. 😀  Thank you for supporting a cause that is important to me. Your donations and participation, regardless of whether you donated $5 or $500 have made a difference in leading to this wonderful day. I'm very proud that through our family's participation in Lucile Packard's Summer Scamper in 2013 and 2014, we have raised upwards of $2500 from your generous donations. Every person and every dollar has made a difference toward achieving this huge milestone. I was so thrilled with the news and celebrated this morning with a caffeinated drink in honor of Sean Parker and Dr. Kari Nadeau! Cheers and THANK YOU!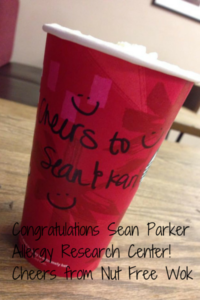 Let's keep raising awareness and support to keep the momentum going. A portion of the donation is a matching grant. You can be a part of this great movement toward a cure by making a donation of any amount. Visit  Sean N. Parker's Center for Allergy Research's about page and click on "Make a Gift" to send a donation. 
To find out more, read the press release —-> click here
Or visit the new Sean Parker Allergy Research Center's Website —> click here