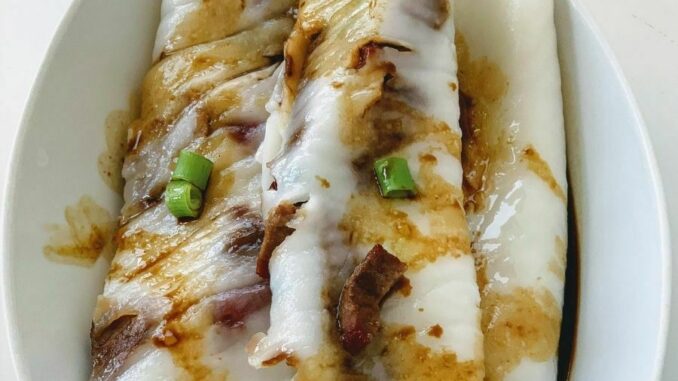 My favorite Chinese food is dim sum, specifically rice rolls, which is basically a steamed and rolled rice sheet. This recipe is Char Siu Rice Rolls, a rice sheet rolled up with a BBQ Pork Char Siu filling and served with a sweet soy based dipping sauce.
I am on a roll with Cheung Fun recipes (sorry, I couldn't resist the pun, sometimes I am 6 years old)! I have been making all kind of rice rolls (cheung fun), with different fillings and using a variety of equipment. You might already have a steamer set up or a large electric skillet already but this is another alternative for people who happen to have a perforated pizza pan (affiliate link), a big pan with lid, and parchment paper.
Disclaimer: Please check that all ingredients are suitable for your allergies and be sure to ask your medical care team regarding any allergy related questions (I do not share medical advice). As an Amazon Associate I earn from qualifying purchases.
Jump to Recipe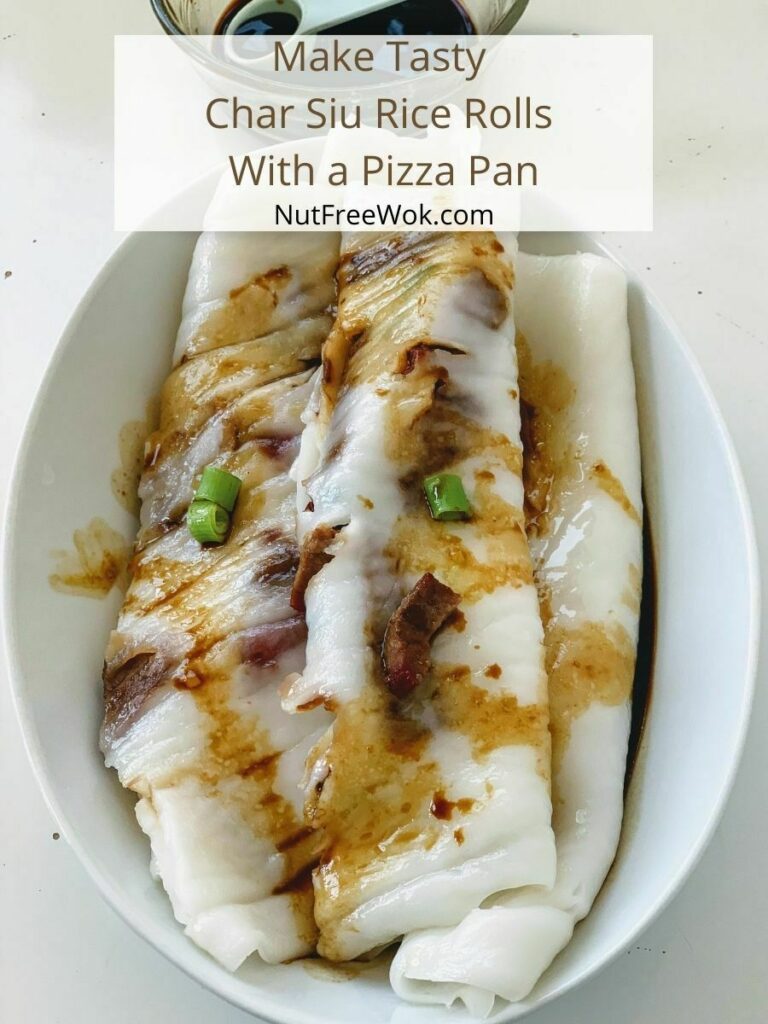 Make or Buy BBQ Pork (Char Siu)
BBQ Pork Rice Rolls (also known as char siu cheung fun) is a rice noodle sheet rolled up with pieces of char siu inside. Char Siu is a Chinese barbeque pork, I make a sesame free bbq pork char siu recipe in our oven and it's even better when my hubby grills it in our bbq. I buy a large tray of country style ribs and make a ridiculous amount of char siu that I think will take us a long time to finish. But somehow we finish it all and it's always a little iffy if I'll have enough leftovers to make char siu baos or char siu cheung fun.
When I need a small amount for a recipe, I like to buy char siu from a Chinese BBQ takeout shop or a Chinese BBQ counter inside Asian supermarkets. Since we usually avoid peanuts and tree nuts and the main allergens used are soy, wheat, and maybe sesame, I feel like the risk is low for nut free folks. However, there is always an exception. I had to pass at one Chinese BBQ establishment when I saw their containers of freshly deep fried peanuts for sale, which I've only seen once.
If you decide to try the Chinese BBQ store bought option, be sure to look at everything available and then ask questions. All the cooked, braised, roasted, and BBQ foods that are sold at the counter are weighed on the same scale, chopped on the same board with the same knife. It's important to be aware of potential cross-contact with other food items and check about allergens before ordering.
I pan fry sliced char siu until it renders out a little bit of fat, becomes a tiny bit crispy around the edges, then sprinkle a little bit of sugar and drizzle a little bit of soy sauce, turn off the heat and stir fry in the pan's residual heat for a minute. That will be some divine char siu rice rolls. If you are short on time and you like the taste and texture of the sliced char siu you can skip the saute and season step.
Making Rice Rolls in a Restaurant
Some restaurants use an electric steamer that looks like a large steamer box with metal trays that slide in and out like drawers for rice batter and filling. A cook will fill a tray with batter and filling, slide it in to steam, pull out another tray and roll the rice sheet, plate and repeat. The electric steamer is not practical for a home kitchen as it takes up a lot of space and can be used for only one purpose. 
I came up with the idea of using a perforated pizza pan when I thought about a more traditional commercial kitchen set up for making cheung fun. Some kitchens have large rectangular steam trays with a perforated bottom and a cook would line the steam tray with a piece of cheesecloth to steam the rice batter with filling. And when the rice sheet is ready, they are able to roll the rice sheet off the cheesecloth and plate.
Making Rice Rolls at Home
One day I was making cheung fun and happened to look at my perforated pizza pan (affiliate link) while I was waiting and thought, what if I try steaming with a perforated pizza pan? I use my 14 inch All-Clad braiser with a lid and filled it halfway with water. I place my 15 inch perforated pizza pan on top of the 14 inch wide pan and position the perforations over the pan, and then the lid over the pizza pan, and bring the water to a boil. 
Then I tried steaming rice noodles with cheesecloth and amazingly enough, the rice batter doesn't drip thru but it's difficult to transfer the steamed noodles from the cheesecloth onto a serving plate.
Undaunted (because I'm a cheung fun motivated person) I tried steaming the rice batter on parchment paper (affiliate link). I lightly brush the paper with some oil, take the lid off the steamy pan, place the parchment sheet on the pizza pan. Then I quickly add the batter and toppings and adjust the corners of the parchment paper so that the rice noodle will turn out flat and intact and cover the batter to steam. 
While I'm waiting for the rice sheet to steam, I brush a second sheet of parchment paper with oil, stir the rice batter, and get ready to take the first parchment paper sheet off the pizza pan and to allow the rice noodle sheet to cool down before rolling.
The pizza pan just rests on top of the pan and sticks out a bit so be careful to avoid tipping it or bumping into it. Also, I have an electric stove but if you use a gas stove, be sure to check and trim the parchment paper to fit the pizza pan.
Mix and Match Batters, Filling, and Steamers
You can try this Char Siu Rice Rolls recipe as written and then you can mix and match the different parts of my different cheung fun recipes. Pick a filling, a rice roll batter, and a steamer set up to suit your preferences, what you can eat, and what you equipment you have.
So far I have introduced two different kinds of rice batters. My own rice noodle batter recipe uses rice flour, tapioca starch, and wheat starch and after it is steamed, it's easy to roll up and holds its shape well. I also shared Nom Wah cookbook's rice batter made with rice flour, potato starch, and wheat starch from and after it is steamed, it's also easy to roll up and the taste and texture is excellent. The only downside is that I can't find a potato starch that I can confirm is nut free so I collect the potato starch from the soaking liquid of grated potatoes, which is easy but takes additional time.
This cheung fun recipe will introduce using char siu as a filling. If you don't want to use char siu, I have other recipes with other fillings such as beef, shrimp, and dried shrimp with Chinese sausages.
Your steamer set up may vary a bit depending on what equipment you have at home. My first recipe uses a pan with a lid that is large enough to float a square metal baking pan inside the pan. This is the simplest and most conventional set up but it takes a long time to steam enough noodles for my family.
My other steamer set up uses a large electric skillet that can fit a rectangular pan, which helps me to steam all the batter in fewer batches, thus saving me some time.
This recipe introduces my latest cheung fun steamer hack and uses a perforated pizza pan, parchment paper, and a wide pan with a lid. I love sharing another option with you so that you can use equipment that you might have already.
This recipe is free of peanuts, tree nuts, egg, milk, fish, and seafood as written.
People with a soy allergy can make a soy-free soy sauce or use a soy sauce alternative. If you have a wheat allergy you would need to use a tamari sauce (gluten free soy sauce) and omit the wheat starch. You can either replace with an equal amount of rice flour, tapioca starch or potato starch. The texture won't be quite the same but it will be close enough. 
If you have a sesame allergy, I recommend that you make the char siu from scratch using my sesame and nut free char siu recipe. Most char siu marinades and hoisin sauce contain sesame and I developed my char siu recipe before my son outgrew his sesame allergy. 
If you need help finding ingredients for any of your allergy aware Asian fare, check out what's in my cupboard to see what I use.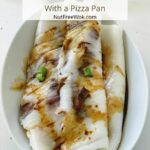 Make Tasty Char Siu Rice Rolls With a Pizza Pan
My favorite Chinese food is dim sum, specifically rice rolls, which is basically a steamed and rolled rice sheet. This recipe is Char Siu Rice Rolls, a rice sheet rolled up with a BBQ Pork Char Siu filling and served with a sweet soy based dipping sauce. 
Ingredients
3

cups

rice flour

½

cup

tapioca starch

½

cup

wheat starch

1

teaspoon

salt

3

tablespoons

olive oil

or other neutral cooking oil

3

cups

room temperature water

2

cup

boiling water
Toppings:
1

teaspoon

olive oil

8

oz

BBQ pork

char siu, quarter lengthwise and thinly sliced

1

teaspoon

sugar

1

teaspoon

soy sauce

¼

cup

green onions

chopped (optional garnish)

1-2

tablespoons

olive oil

in a cup
Sweet Soy Sauce:
2

tablespoons

soy sauce

2

tablespoons

water

1

teaspoon

sugar
Instructions
Combine the rice flour, tapioca starch, wheat starch, and salt. Add olive oil and 3 cups room temperature water and stir with a whisk until the batter is smooth. Stir in the boiling water. Set aside and allow the batter to rest at least 30 minutes (up to overnight).

Heat up a frying pan on medium heat until warm, add 1 teaspoon olive oil and sliced char siu, stir occasionally until the char siu sizzles slightly, 3-5 minutes. Sprinkle on 1 teaspoon of sugar and stir fry 30 seconds. Drizzle 1 teaspoon soy sauce and stir fry until the sugar is dissolved and the ingredients are coated with sauce (30-60 seconds). Remove from heat and set aside.*

Stir together 2 tablespoons soy sauce, 2 tablespoons water, and 1 teaspoon sugar and set sweet soy sauce aside until ready to serve.
Set up and Assembly
Fill the pan about halfway with water, cover with a lid, and bring the water to boil on medium heat. When the water boils, add the pizza pan to warm it up for a few minutes.

You will need to allow room for a pizza pan sitting on top of a large pot, organize your space and plan out where will you put the lid in between batches, where will you roll the rice noodles and oil the pan and refill the pan with toppings and batter.

Brush large sheet of parchment paper with olive oil and place it on the pizza pan, add about ¾ cup of batter and then lift the edges of the parchment paper to spread the batter around until it's roughly a circle. When the batter is about halfway set, add about 1 oz of char siu in a line down the center, use chopsticks or a fork to arrange them somewhat evenly. Cover with a lid and steam for about 5 minutes.

The rice noodle is ready when you see that the rice sheet looks evenly translucent and not opaque. Carefully remove the lid and set aside, remove the rice sheet with the parchment paper and set it aside to cool for 1-2 minutes before rolling.

Brush a second sheet of parchment paper with olive oil, add some rice batter and char siu and steam. Repeat until you use up all the batter.

While you are waiting for a second rice sheet to finish steaming, use a lightly oiled silicon spatula or fish turner (something thin and slightly angled is ideal) in one hand to roll the rice sheet while holding the parchment paper up with your other hand to help the rice sheet to roll into itself. You can plate individually or place into a serving dish and cut each roll into smaller pieces (4-6 pieces per roll), drizzle with 1-2 spoonfuls of the sweetened soy sauce and serve with the soy sauce on the side as needed.
Recipe Notes
*If you run out of char siu, you can make plain rice noodle sheets and roll them up. If you want to fill every roll, I recommend that after you saute and season the BBQ pork, you can approximate 1/8th by dividing the char siu into 4 quarters in your bowl and then spoon out about half of each quarter for every rice sheet.