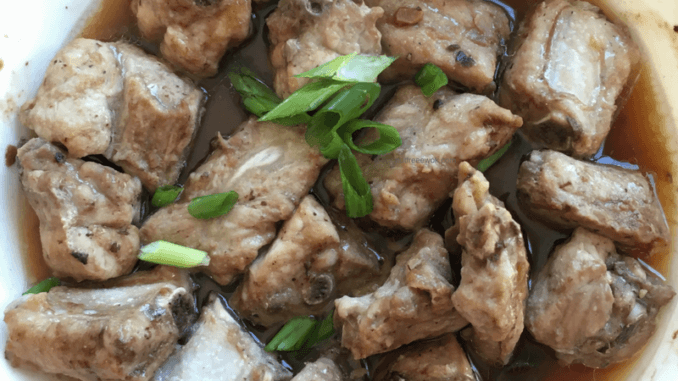 Steamed Spare Ribs with Black Bean Sauce Recipe
Learn how to make an entree sized version of steamed spare ribs with black bean sauce, a classic dim sum dish. Serve this dish with rice and a side of veggies for a complete meal.
Black bean sauce steamed spare ribs is a dim sum favorite. 5-6 mouthwatering morsels of pork are served in a little dish which is fine for a taste at a dim sum restaurant, one dish among many. You can enjoy steamed spare ribs with black bean sauce for a family meal by using this recipe.
Which cut of meat to use?
The traditional way to prepare the dish uses rib tips but one can also use baby back spareribs that have been cross-cut by a butcher, which you cut up into bite sized pieces at home. When my kids were little, I was concerned about the bones being a choking hazard so I bought country style ribs and cut the boneless meat into 1 inch cubes. The country style ribs is a very tender and lean cut and take less time to steam (about 15 minutes).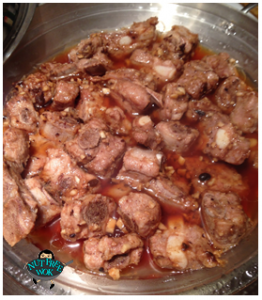 Allergy Aware Ingredients
The savory flavors are due to the black bean sauce traditionally made from fermented black beans that are rinsed and minced with garlic. But fermented black beans are hard to find unless you have access to a Chinese market so I suggest looking for Lee Kum Kee's Black Bean Sauce or Black Bean Sauce with Garlic. According the information on Lee Kum Kee's FAQ, 1) most of their products do not contain milk, egg, nuts or peanuts, 2) they do have shared facilities with peanuts but they have policies and procedures to limit cross-contact, and 3) they analyze for peanut residues. Lee Kum Kee products are available in many supermarkets in the ethnic section as well as online.
Make ahead ideas
You could prep this meal the day before or hours before and steam when you're ready. This recipe also freezes well and to save time, I make twice as much, freeze half and steam the other half. It is so awesome to defrost in the refrigerator for 24 hours and then the spareribs are ready to steam.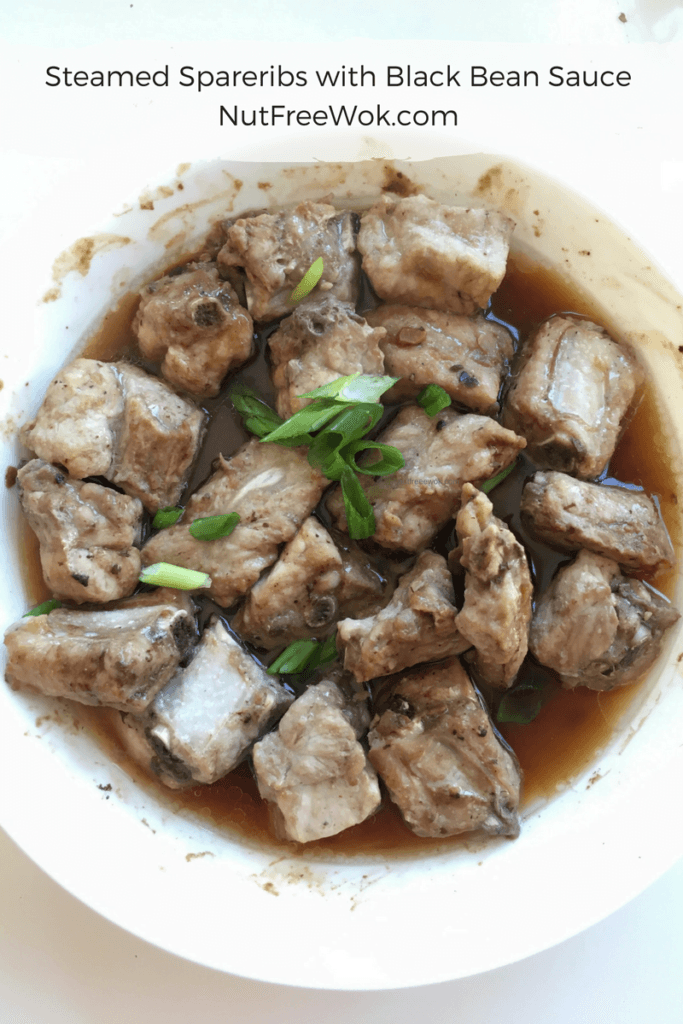 Variation:
Spare ribs are even better with tofu. Drain and cut a block of tofu into 8 pieces. Microwave in a large bowl for 2 minutes (or steam until hot) and then drain the excess liquid. Pour the steamed spare ribs and sauce over the tofu. The tofu readily soaks up the savory flavors from the spareribs and sauce.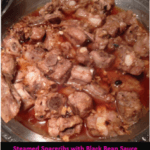 Steamed Spare Ribs with Black Bean Sauce Recipe
Ingredients
2

pounds

of rib tips

baby back ribs (cross-cut) or country style ribs

2

tablespoons

Lee Kum Kee Black Bean Sauce

2

tablespoons

soy sauce

1

tablespoon

mirin

cooking sake or sherry or Chinese rice wine

1

tablespoon

minced garlic

use less if you're using the black bean sauce with garlic!

2

teaspoons

corn starch

1/2

teaspoon

sugar

1/4

teaspoon

sesame oil

optional
Instructions
Set up a large pot with a tight fitting lid for steaming by adding about an inch of water and set a steaming rack inside.

You will need a pie plate or something that will fit inside your pot.

Rinse the spare ribs to wash away any bits of bones, trim off any excess fat, pat dry with paper towels and then cut in between the bones into 1-2 inch sized pieces and place in the large pie plate.

Add the black bean sauce, soy sauce, mirin, corn starch, garlic, sugar, and sesame oil (if using) to the pork and mix.

Spread the meat out into a single layer and allow it to marinate for at least 30 minutes at room temperature and start boiling the water in the steamer at medium-high.

Steam for 20 minutes, check that there is still enough water in the steamer and add water as necessary.

The ribs are ready when you see that the meat is no longer pink and bathed in a broth-like sauce.

Serve with rice and a favorite vegetable side dish.

If you make the recipe a day ahead and refrigerate it after it cools down, you can discard the layers of solidified fat floating on top of the sauce, then reheat to serve.
Thanks for reading, please help Nut Free Wok!
The best way to see every post or recipe is to subscribe to Nut Free Wok's email subscription (be sure to respond to the confirmation email). I won't send you spam or share your email address with anyone.
If you enjoyed this post, please use the social media buttons below to share with others. I am on Facebook, Twitter, Pinterest, and Instagram as @nutfreewok and it's great to chat and interact on social media too.
If you see any of my posts on social media, please like, retweet, comment, or share. I would love your help in sharing Allergy Aware Asian Fare with your friends so that I can spend more time working on recipes.
Disclosure/Disclaimer:
I may mention the names of stores and/or brand names of products that I use because readers ask and I share products and sources which I use and think may be helpful to readers, all opinions are my own. Please note that manufacturing practices and ingredients can change at anytime without notice and readers are always responsible for assuring allergen safety before buying or consuming foods. NutFreeWok.com is a participant in the Amazon Services LLC Associates Program, an affiliate advertising program designed to provide a means for sites to earn advertising fees by advertising and linking to Amazon.com. Thank you for your support!