I could barely contain my excitement this morning when I received the email that I was selected to be an official member of the 2014 Gluten Free and Allergen Free Expo Blogger Team for the January 25th and 26th event in San Francisco! This will be my very first event as a blogger. Whoo-hoo!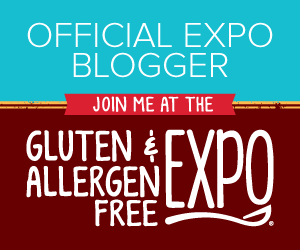 Last year I went to the expo out of curiosity, not knowing what to expect about the event and I was blown away. There were so many vendors passing out samples of really great products and I tried out foods that I would have never known about. It was great to talk with the representatives to find out more about their products and their labeling policies. There were also booths for support group leaders and authors. I signed up for a subscription for a magazine because the offer was too good to pass up.
The 2013 GFAF Expo was really fun and I felt like a kid in a candy store. I came home with a huge bag of samples, coupons, brochures and freebies. I felt a little misty eyed to see my kids' excitement about all the yummy safe treats they could try. Not every single vendor had something that works for our family's multiple food allergies, I still loved the opportunity to find out without having to go grocery shopping and then call the manufacturer and then possibly return items.
Did you know that the expo also has classes? I didn't know that and hadn't planned to allow enough time to attend. But I hope that my schedule will allow attending at least one class this year. This year's classes include the following topics by some really knowledgeable presenters:
The Latest on Gluten, Celiac and IBS: Separating Fact From Fiction
French Bread in 30 Minutes
Guts, Brain and Skin Connection
The Paleo Lifestyle: It's About More Than The Food
Tips for Successful GF Baking & Cooking
Power Me Up NOW
The 2014 GFAF Expo sounds like it's going to be even bigger and better since it will be held at the San Mateo County Event Center with many sponsors and over 100 vendors. I am excited about going to broaden my horizons a little and explore new-to-me food products or cooking techniques that I can use when friends with different allergies than my family come to visit.
Are you going? The expo event will be held at the San Mateo County Event Center, about midway between San Francisco and San Jose and just minutes from the San Francisco International Airport (SFO). The event is from 9 a.m. to 3 p.m. and parking is $10. For more information or to order tickets, click here. I hope to see you there!