The Hom family's Vitality Bowls recently opened in San Jose, CA in memory of BJ Hom and is making a difference in their community. I adore the Hom family and feel so inspired by them when I watch them work so tirelessly to advocate so that other families do not suffer the same tragic loss of their son and brother, BJ, due to anaphylaxis. Read about BJ's story, if you're not familiar with his story.
The opening of the Hom family's Vitality Bowls restaurant was featured in a local TV news interview about their family's new business. The store is prepared to accommodate customers with food allergies and sensitivities and are among the first California restaurants to have stock epinephrine in place as well as a special alarm system to summon emergency services in case of an allergic reaction.
It's one thing to talk about restaurant food allergy safety changes but by opening two new restaurants they are committed to setting a new food allergy safety standard for other restaurants to follow. Bravo for their restaurant food allergy awareness in action!
Disclosure/Disclaimer: This is not a sponsored post, I am friends with the Homs but they didn't ask me to write nice things about them, all opinions are mine. If you decide to eat at their restaurant, you are responsible for your own allergen safety by reading the menu, notifying the restaurant staff, and being prepared with your emergency medications. If you have any questions, please consult your medical professional.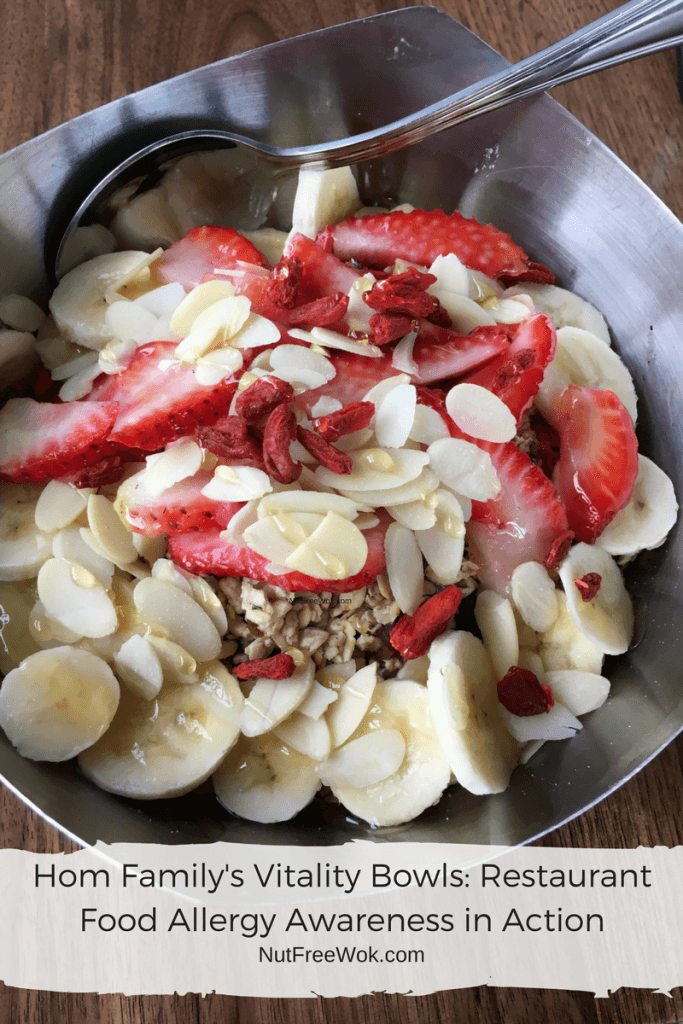 I've Been Missing Out on Smoothie Bowls
I've seen gorgeous photos of smoothie bowls on Instagram and Pinterest and wondered why? Isn't it difficult to eat a drippy smoothie with a spoon? Isn't it easier to drink a smoothie with a straw? Short answer: I've been missing out on a delicious and healthy meal idea!
The Hom family's Vitality Bowls has a lot of menu items to select from, such as smoothie bowls, smoothies, fresh juices, soup, salad, and panini sandwiches. I wanted to try a Vitality Bowl, which is basically thick smoothie made with super antioxidant berries and fruit and without ice, added sugar, or fillers and then beautifully topped with fruit, granola, seeds, nuts, and/or honey.
I ordered a medium sized Warrior Bowl. Warrior Bowl was looked stunning and easier to eat than I imagined. The smoothie base was thick and spoonable, the texture somewhere in between ice cream and soft serve. The addition of fruit and crunchy and chewy toppings made it a very filling breakfast for me.
It's important to note that their menu items are NOT nut free. Some of their menu items contain peanuts, almonds, wheat, milk, and soy. However, they have procedures in place to prevent cross-contact and can leave out any allergenic ingredients as requested.
They have some gluten-free options. They have other items on their menu such as smoothies, fresh juices, soup, salad, and panini sandwiches. I was so full, I didn't have a good appetite to try or enjoy anything else. I did order a pitaya latte and some sandwiches to go.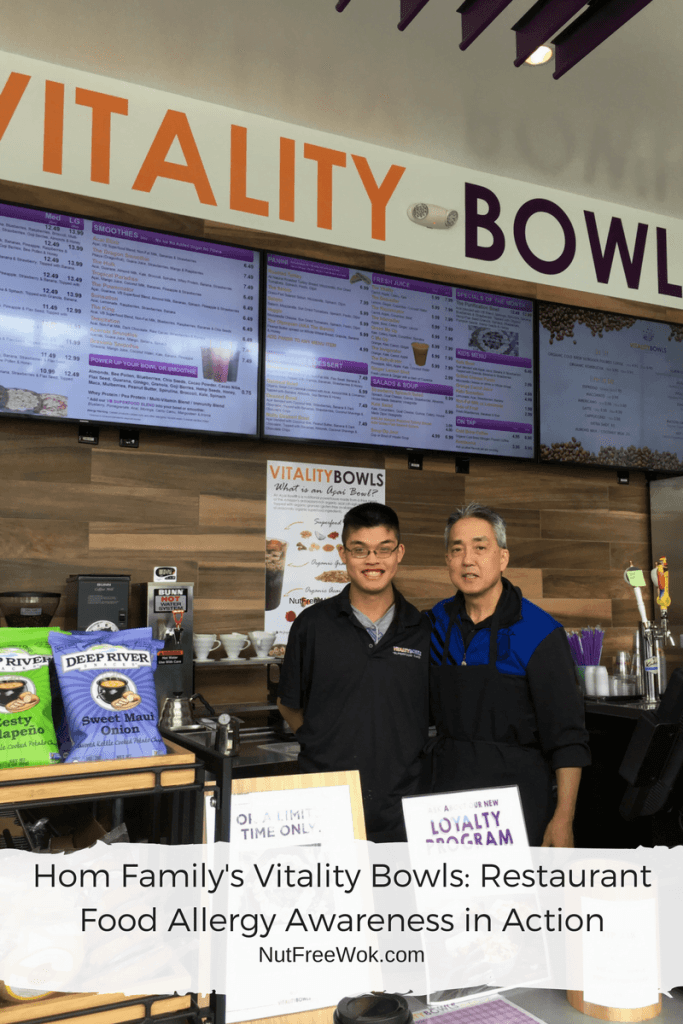 Food Allergy Community: Maybe It's a Place "Where Everybody Knows Your Name"
I had a chance to catch up with Brian as I ate my breakfast. I haven't seen him in over a year and I was thrilled to see that he looked healthy and seems to be thriving and happy about opening a restaurant. Knowing how hard he and his family worked in organizing our local food allergy walks over the years, I have no doubt in their work ethic and resourcefulness to make their new Vitality Bowl restaurants a success.
It was heartwarming to learn that many of his regular customers with food allergies or sensitivities feel comfortable eating at their Vitality Bowl restaurants. And I loved hearing stories about how some families with children with food allergies took their children out to eat for the first time at his restaurant and finally have a go-to place to grab a quick and healthy meal. He talks with their customers and if they have food allergies, he exhort them to be safe and to carry their prescribed epinephrine auto-injectors. Likewise he told me that he has learned so much from his customers with allergies different from their own personal experiences.
I loved hearing Brian's stories and maybe I'll be lucky enough to hear a story from one of his restaurant regulars, especially from someone who's feels like a dining opportunity opened up for them and they have a safe and comfortable place to dine and meet others in a similar situation. If there could be a soundtrack for Brian and the Hom family's Vitality Bowls, I imagine Cheer's theme song, "Where Everybody Knows Your Name"…
"Where everybody knows your name And they're always glad you came.
You wanna be where you can see,
The troubles are all the same.
You wanna be where everybody knows your name"
Isn't that lovely?
Before You Go…
If you decide to visit Brian and the Hom family's Vitality Bowl, you can check the location, hours, and menu on their website. The Hom family's Vitality Bowl is located in the Village Oaks shopping center, in the southern most area of south San Jose, right before you leave the Bay Area to head down toward Morgan Hill, Gilroy, Monterey and beyond. And if you're ever driving north on 101 from those areas and you need a snack, you know where to go!
Be sure to read the menu carefully and notify the cashier of your allergies before ordering. Ask them to change gloves and to prepare your food with your allergies in mind. And bring your emergency medications such as epinephrine auto-injectors. I will update this post when their second location opens.
Thank you, Brian, Kathy, Brandon, and Stephen. Best wishes to you and your family. Love, Sharon
I have not been paid or compensated in any way to share this review with you. I paid for my order and am sharing my opinion with you. Because restaurants may change ownership or menu items at any time without notice, this review may become inaccurate at any time. You are responsible to verify safety before eating and remember to bring your epi auto-injectors and other emergency medications. Consult your medical care team if you have any questions.
Thanks for reading, please help Nut Free Wok!
The best way to see every post or recipe is to subscribe to Nut Free Wok's email subscription (be sure to respond to the confirmation email). You will be notified by email next time I publish another post or recipe and I won't send you spam or share your email address with anyone.
If you enjoyed this post, please use the social media buttons below to share with others. I am on Facebook, Twitter, Pinterest, and Instagram as @nutfreewok and it's great to chat and interact on social media too.
Disclosure/Disclaimer:
I may mention the names of stores and/or brand names of products that I use because readers ask and I share products and sources which I use and think may be helpful to readers, all opinions are my own. Please note that manufacturing practices and ingredients can change at anytime without notice and readers are always responsible for assuring allergen safety before buying or consuming foods. NutFreeWok.com is a participant in the Amazon Services LLC Associates Program, an affiliate advertising program designed to provide a means for sites to earn advertising fees by advertising and linking to Amazon.com. Thank you for reading!