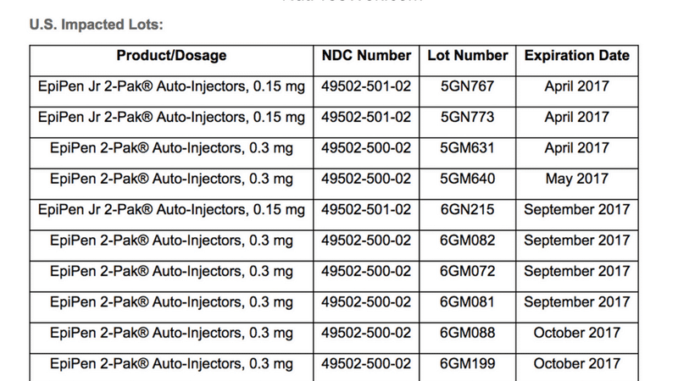 Important Announcement: Mylan Expands Their EpiPen Recall
If you or a loved one carry a Mylan brand EpiPen (epinephrpine autoinjector) you must read this article for an important announcement about their EpiPen recall.
Disclaimer: I am sharing some consumer information about an EpiPen recall and it is up to you to follow up with your doctor or pharmacist. This post is not intended to offer any medical advice, please consult your medical care team.
I had heard about an EpiPen recall affecting consumers in Australia (Lot number: 5FA665, 5FA6651, 5FA6652, 5FA6653, expiration date April 2017) a couple of weeks ago which mainly affected four lots. Then the recall became a worldwide recall as those lots were also distributed in parts of Europe and Asia.
This past Friday I read about Mylan expanding their EpiPen recall to include the US, and two hours later I received an email from Mylan's marketing/PR team about the recall which included additional lots and expiration dates. Then hours later I also read about two lots that were distributed in Canada. "In Canada, the recall impacts one lot (5GU763) of the 0.3 mg strength of EpiPen Auto-Injector expiring in May 2017 and one lot (5GR765) of the 0.15 mg strength of EpiPen Jr Auto-Injector expiring in March 2017,"
Email from Mylan:
We wanted to make you aware of Mylan's announcement today that Meridian Medical Technologies, a Pfizer company and Mylan's manufacturing partner for EpiPen® Auto-Injector, has expanded a voluntary recall of select lots of EpiPen (epinephrine injection, USP) and EpiPen Jr® (epinephrine injection, USP) Auto-Injectors to now include additional lots distributed in the U.S. and other markets in consultation with the U.S. Food and Drug Administration (FDA).

Please see the full press release here.

Patient safety is our primary concern, and we are committed to replacing recalled devices at no cost.

If you or your readers have any questions about returning recalled product, please contact Mylan Customer Relations at 800.796.9526 or customer.service@mylan.com.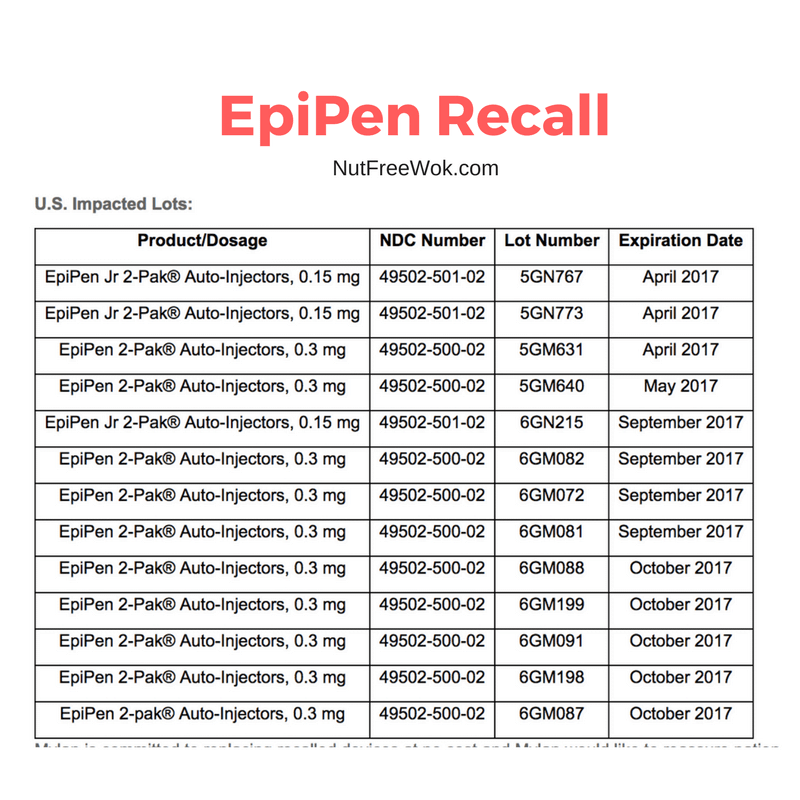 Important reminders:
It is extremely urgent to take this recall seriously. The good news is that if you have a recalled EpiPen, you can take it to a pharmacy for a free replacement. You will need to call the phone number listed in Mylan's press release (see above), obtain a voucher to take to the pharmacy, and then send back your recalled EpiPens.
Continue to carry your EpiPen even if they are recalled until you are able to obtain replacements.
If you are in an emergency situation, please use your EpiPen as prescribed by your doctor. Know that the issue for the recall is that the EpiPen may require a little more force to inject, so adjust accordingly as needed. If you do experience any issues, keep your EpiPen and report it to the FDA (see Mylan's press release).
Remember to check all where you keep all of your EpiPens, including the ones stored at school, at work, at daycare, in your purse, briefcase, and backpack. Are there other places that you have your EpiPens that need to be checked?
Notify your child's school nurse so that they can check their stock epi supply.
Keep Calm & Carry EPI!
I cannot understand why Mylan took so long in between their announcement of the recall in Australia which later included parts of Europe and Asia until this expanded recall of more lots of EpiPens. I had a bad feeling that another recall could affect those of us in the US and felt upset and betrayed when I read about the recall on Friday afternoon. I'm glad Mylan did the responsible thing to recall more lots out of precaution.
The timing of the announcement was quite frustrating as there was little I could do, I couldn't check my children's EpiPens at school and we have plans for spring break. All of our current supply of EpiPens expire in April 2017, but I don't have access to the lot numbers until school resumes next week.
Thank goodness we had recently received our shipment of Auvi-Q so I knew that we have some alternate epinephrine autoinjectors on hand in case of an emergency. I didn't have a chance to blog about our Auvi-Q experience but you can read my update on Facebook.
I know some readers have recalled EpiPens and I feel your frustration. Please obtain replacements as soon as you can but keep what you have available until you have new EpiPens. I would also recommend practicing with your trainers with your family and discuss the possibility of needing to use more force.
Stay safe! We help look out for each other. Please share about the EpiPen recall with friends or loved ones. Thanks!
Sign Up for Emails from Nut Free Wok!
The best way to see every post or recipe is to subscribe to Nut Free Wok's email subscription (be sure to respond to the confirmation email). I won't send you spam or share your email address with anyone.
Disclosure/Disclaimer:
I am sharing some consumer information about an EpiPen recall and it is up to you to follow up with your doctor or pharmacist. This post is not intended to offer any medical advice, please consult your medical care team. I may mention the names of stores and/or brand names of products that I use because readers ask and I share products and sources which I use and think may be helpful to readers, all opinions are my own. Please note that manufacturing practices and ingredients can change at anytime without notice and readers are always responsible for assuring allergen safety before buying or consuming foods. NutFreeWok.com is a participant in the Amazon Services LLC Associates Program, an affiliate advertising program designed to provide a means for sites to earn advertising fees by advertising and linking to Amazon.com. Thank you for your support!