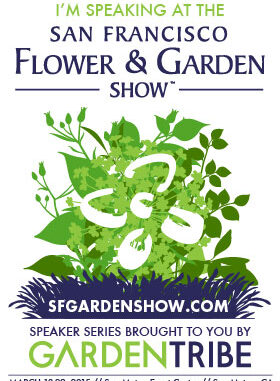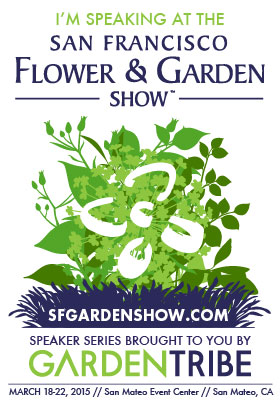 The San Francisco Flower & Garden Show is on Wednesday-Sunday, March 18-22.
I am speaking at the San Francisco Flower & Garden Show!! That just blows me away as I am so honored to have the opportunity to present a cooking demonstration on Thursday, March 19 at 12 noon at the Kitchen Garden Stage.
Come join me for my cooking demonstration and talk, Asian Vegetables 101, where I will be talking showing you step by step instructions on how to make Turnip Cake, a savory dim sum specialty, and make Pea Shoots Stir Fry with garlic and ginger, a springtime favorite. I will bring some of my favorite vegetables and give tips on how to pick them, how to prep them, cook them, and give some tips on what grows well in the Bay Area. My session will be 45 minutes but it will go by quickly and we will learn a lot together.
I have attended the SF Flower & Garden Show before and it is a lot of fun to see the gardening professionals' displays and to browse all the beautiful plants for sale. The activities for kids in the Pollinator Pavilion are delightful and help kids to become engaged with gardening. I gardened with my children when they were little and wouldn't eat their vegetables. They enjoyed the process of growing their own fruits and vegetables and learned to like vegetables because homegrown vegetables taste better. My older son received a free carnivorous octopus plants when he was little and nurtured his plants for years.
The San Francisco Flower and Garden Show and all it has to offer has been a wonderful educational experience for my family. I think it's wonderful that things have come full circle for me to have an opportunity to give back to the gardening community through my time at at the cooking demo. Thank you, Jen Long from Garden Tribe, for selecting me, I'm so excited to present, and help people enjoy new vegetables!
For more information about the show, visit the SF Flower & Garden Show website and buy your tickets today.
If you live in the Bay Area, I would be very honored if Nut Free Wok readers attended the cooking demo. I will want a picture with you and your autograph, so please stay for a few minutes afterwards to say hello.
Love this post and want more?