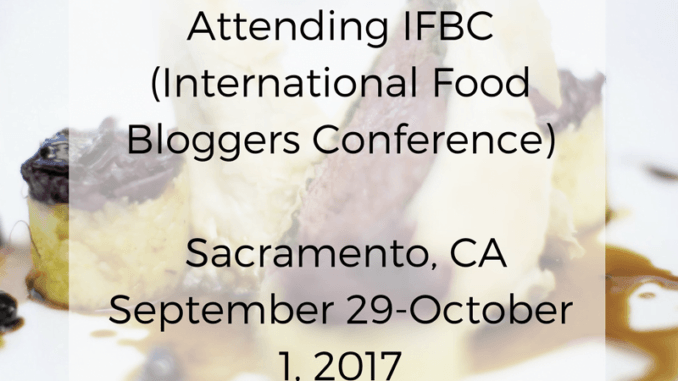 5 Reasons Why I Am Attending IFBC
I will be attending IFBC, the International Food Blogger Conference in Sacramento the weekend of September 29-October 1, 2017!
Disclosure: I registered for the conference at a special rate for bloggers, with a commitment to write a three part series about the conference. This is my first of three posts, all opinions are my own.
Update: I'm adding some of my conference observations below some of my expectations. Overall I think that it's a good conference and I had fun, learned some things. 10/10/17
I have a lot of passion about Nut Free Wok and sharing my experiences and allergy aware Asian fare recipes but I know there's still plenty for me to learn. Attending IFBC, a food bloggers' conference, is the perfect venue for a little inspiration, some yum eats and drinks, and an opportunity to meet other passionate foodies.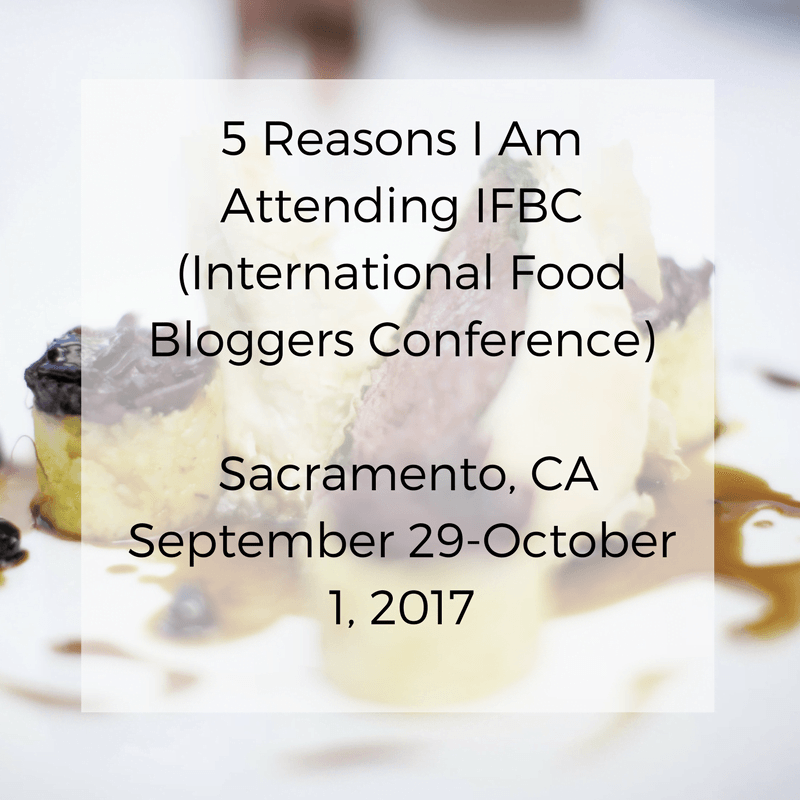 Those are my general reasons to attend but I have 5 reasons why I am attending IFBC that might help some readers decide if IFBC is the right conference for them. Maybe some readers might want to stay tuned for reasons to visit Sacramento in the future….
1) The hosting city is Sacramento, which is not only the capital of California but it's a historical city where one can learn about the 1849 Gold Rush days, visit the California State Railroad Museum, and walk around Old Sacramento, a national historical monument that takes you back in time. If you enjoy architecture, you must visit the state capitol building, it's so old and beautiful with grand ceilings, detailed woodwork, and lovely granite and marble everywhere.

I really enjoyed spending time around the capitol and convention center area. It felt very safe and we had a fun time. My friends and I ate at Ma Jong's Asian Diner (not nut free but accommodating) and Cafeteria 15L (also not nut free but handled allergy orders well). Both meals were really delicious. We also ate at Mayahuel, my friends liked their meals but my meal was just average at best. 

2. The conference organizers have arranged great hotel rates for conference attendees. One hotel venue is the Hyatt Regency Sacramento, a luxury hotel, and the other is a family friendly Residence Inn Sacramento Capitol Park. Food blogger friends who live in California (or Nevada, Caroline and Alisa, I'm talking about you!), I hope I'll see my west coast blogger friends…it's a short drive or short flight!

The Hyatt Regency was a wonderful place to stay. We stayed on the 10th floor which is accessible only with a key card, I feel really safe. We also added an upgraded breakfast option in their lounge, it is the best hotel breakfast experience. Clean, quiet, spacious, delicious. 

3. Bloggers may enjoy a special rate if they agree to write 3 blog posts related to the event. Your blog posts could be about anything that interests you (something you learned, an excusion, an interview, your new favorite food, etc.). Some of the sessions seem like they will be very interesting, such as "Google Analytics for Maximum Engagement,"  "Rodney Strong Vineyards Food & Wine Sensory Experience," "Creating Videos for Under $100," and "Beyond the Blog" (how your blog is platform for other opportunities).

I will be writing two more articles about two of the sponsors at the event. You will love it! As for the sessions, some of them were scheduled at the same time as something else I wanted to go to. I really liked the sessions with food bloggers as speakers, they were inspiring but I wish I had more take home points about what can I do better, how do I apply what I'm learning? 

4. I am looking forward to "Live Food & Drink Blogging" which is an interactive food and drink event with 10 different food or drink products during a 50 minute period while sharing the event on social media. You know you need to come if live blogging while eating and drinking sounds like fun. 😉

The concept is so great, bloggers remain seated at a table and the sponsors come by and give a 5 minute Shark Tank like elevator pitch and we try their products and tweet about it. But on the other hand I felt like I was in a fish bowl with the sponsors watching our reactions to their food or drink samples. It's really awkward for people with allergies or intolerances or when the product just doesn't suit one's preference. 

Food brands and food public relations folks will this conference as well. There is nothing better than face to face conversations about what you do, what I and other bloggers, food writers, and influencers do, and what we can do together. I especially encourage allergy friendly brands to consider attending because not only do you have a great product to share, but an important mission that needs to be shared more broadly.

This is still always the best part about going to conferences, meeting people in person, hearing their stories, and exchanging ideas. I'm glad I went this year because it was close by because the conference will be in New Orleans next year.
I hope to see some familiar faces at the conference and meeting new friends. If you are interested in attending IFBC, visit IFBC's website for more details.
Sign Up for Emails from Nut Free Wok!
The best way to see every post or recipe is to subscribe to Nut Free Wok's email subscription (be sure to respond to the confirmation email). I won't send you spam or share your email address with anyone.
Disclosure/Disclaimer:
I registered for the conference at a special rate for bloggers, with a commitment to write a three part series about the conference. This is my first of three posts, all opinions are my own. I may mention the names of stores and/or brand names of products that I use because readers ask and I share products and sources which I use and think may be helpful to readers, all opinions are my own. Please note that manufacturing practices and ingredients can change at anytime without notice and readers are always responsible for assuring allergen safety before buying or consuming foods. NutFreeWok.com is a participant in the Amazon Services LLC Associates Program, an affiliate advertising program designed to provide a means for sites to earn advertising fees by advertising and linking to Amazon.com. Thank you for your support!