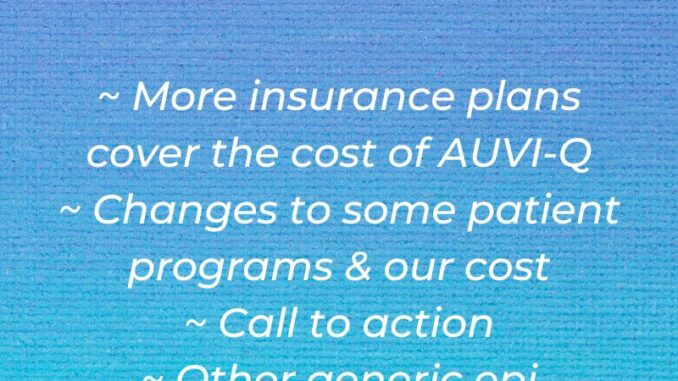 Kaleo updated their patient programs effective October 1, 2022 which I learned about the hard way when I tried to refill my prescription in September. My AUVI-Q epinephrine auto-injectors expired in August so I was particularly anxious to have a new set but I didn't finalize my order for three weeks (mid-October!) due to glitches and then lots of phone calls about prior authorizations.
Despite all of the challenges, the AUVI-Q representatives were very patient and kind even though the situation was out of their control too. We just had a good laugh during most of my calls as we tried to figure out where we were at in the process and I hope everything is smoother now.
Disclaimer: This post is not sponsored, I simply share important updates for epinephrine carrying folks. I am sharing with you my experience and opinions and do not share medical advice. Please consult with your medical care team or contact Kaleo if you have any questions.
What is AUVI-Q?
AUVI-Q are epinephrine auto-injectors that are compact in size and have audio and visual cues (AUdio and VIsual Qs, AUVI-Q! Get it?) to help someone administer life-saving epinephrine during an anaphylactic reaction. Auvi-Q is the only brand of epinephrine auto-injectors that has an appropriate dose for infant and toddlers who weigh between 16.5 to 33 pounds. Our family prefers AUVI-Q because their small compact size makes them easy to carry and I hope that the audio-visual cues will prompt us to use them correctly in a stressful situation.
AUVI-Q launched with great fanfare in 2013 or 2014 and then were recalled by Sanofi in 2015 and relaunched by Kaleo in 2017 with all of the manufacturing issues addressed. I value their transparency about how they incorporated many automated safety checks to make a reliable device. I've also met the twin brothers with food allergies who co-founded Kaleo and invented AUVI-Q. I loved having A Chat with Evan Edwards: Kaleo, Anti-Bullying, & Advice for Teens and wrote about how Kaleo donates AUVI-Q to NYC preschools in honor of Elijah Silvera who passed away 5 years ago on November 3.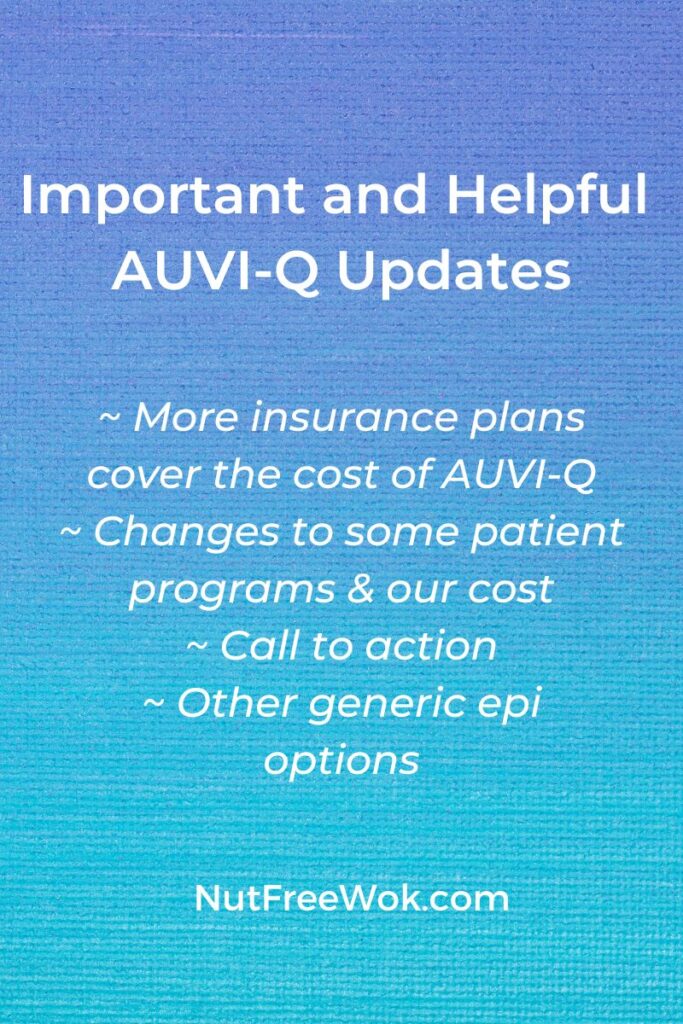 More Health Insurance Plans Will Pay for AUVI-Q
The big news is that AUVI-Q are now covered with no restrictions by more plans including United Healthcare, Aetna, and other plans, which represent approximately 87 million Americans. I hope additional plans will do the same.
AUVI-Q now has a coverage look-up tool on their website. Look for the blue menu bar, click Get AUVI-Q, and select Product Offers from the drop down menu to see if your plan is among those who have added AUVI-Q to their formulary. It's nice that the list is long however it would be easier if it were searchable.
Changes to How Much We Pay
This part becomes more complicated depending on your insurance and I recommend reading about it on Kaleo's website.
If your insurance covers AUVI-Q then you pay your co-pay amount. But if your copay exceeds $35, then your maximum co-pay will be $35.
If your insurance does not cover AUVI-Q, then Kaleo offers this following option: "Kaléo will help alleviate the out-of-pocket cost burden so that you do not have to pay the full out-of-pocket cost required by your insurance. When your doctor prescribes through ASPN or Walgreens, you can receive your AUVI-Q for $150 per carton." Otherwise, your doctor may help submit a prior authorization request.
If you do not have insurance, the cost is $289. Some people who do not have insurance and have a financial need may also qualify for their Patient Assistance Program.
There are other exceptions and rules, please visit Kaleo's website or call them for more information.
Why Don't All Health Plans Cover AUVI-Q? Call to Action!
I placed my order before Kaleo switched their plan and due to a glitch, I was not able to order a set for $25 under their previous plans and my order was cancelled. Because my family's health plan does not cover AUVI-Q, I ended up calling Kaleo, my insurance, and my doctor every few days through the various stages of asking for a new prescription, checking on the order, asking for a prior authorization, checking to see if the insurance approved it, finally scheduling the order and subscribing to their expiration date reminders.
Here's a call to action for many of us. If you have a prescription plan that does not cover AUVI-Q, then we may need to contact our employers' human resources department and our medical insurance plans and ask them to add AUVI-Q to their formulary. Otherwise we will have deja vu and something like this will happen again next year.
It's been 5 years since AUVI-Q went back on the market and I will hop on a soapbox to say that it's ridiculous that AUVI-Q is not on every medical insurance plan already. I spent hours on the phone before I was finally able to receive my AUVI-Q prescription.
However, I remain unsuccessful in obtaining them for my college-aged sons due to HIPPA. I told them to call the insurance company first to find out if they have received and approved the prior authorization request and depending on what the customer service rep says, they then call either Kaleo or our doctor for the appropriate follow-up. I usually advise my sons to refill in May or June before the back to school rush.
The reality is that my sons are too busy with their lives in class, working, or studying to spend that much time on the phone to follow-up about their prior authorizations and hubby is also too busy to follow up with his employer's HR department. One way or another, this is not sustainable and I hope that all of our insurance plans (and Tri-Care and Medicare) will pay for AUVI-Q soon.
Other Epi Options to Help You Save Money
Don't let cost be a barrier to having life-saving medication when prescribed and necessary. If your doctor has prescribed an epinephrine auto-injector for you, it's important to fill the prescription and have access to lifesaving medication in case of an anaphylactic reaction. It's great news that so many people have insurance that will cover the cost of AUVI-Q with a maximum co-pay of $35. However, if we need to pay $150 (or more) per set per patient, that can add up quickly depending on how many sets are needed and how many people in your household need epi and it's worthwhile to compare prices of the different options.
It's important to know that there are low-cost generic epinephrine auto-injectors available, each with different advantages and disadvantages. Deciding which generic epi is right for you is a decision best made with your doctor. If there's a specific generic epi you want, your doctor needs to write that on the presciption otherwise you could end up with any of three possible brands and be ready with a coupon.
Each of the generic epi manufacturers have a savings coupon (subject to terms) on their website, instructional videos on how to use, and information on how to order a trainer that does not contain medicine or needles for practicing how to use the epi autoinjector or injector.
$25 coupon for generic epinephrine by Mylan. This generic epi is exactly the same as the brand name EpiPen or EpiPen Jr. by Mylan except for the brand name and extra cost.
$10 coupon for generic Adrenaclick by Amneal. Alternatively, you might be able to buy this generic epinephrine from CVS at a low cash price, I don't know if you can double dip and use a coupon too. Be sure to ask your pharmacist for a trainer or order one online from their website.
Up to $100 off coupon for Symjepi, which is not generic and not an autoinjector. I highly recommend ordering a trainer and practice with the trainer while watching the instructional video.
If you haven't heard already, there is talk about neffy, a needleless and compact epinephrine device that is administered nasally. It is still being studied and not yet approved by the FDA. I am in full support of more epinephrine options and I hope that the company developing neffy will work on insurance coverage in the meantime.
What's your experience? Share in the comments.
Thanks for reading, please help Nut Free Wok!
The best way to see every post or recipe is to subscribe to Nut Free Wok's email subscription (be sure to respond to the confirmation email). You will be notified by email next time I publish another post or recipe and I won't send you spam or share your email address with anyone.
If you enjoyed this post, please use the social media buttons below to share with others. I am on Facebook, Twitter, Pinterest, and Instagram as @nutfreewok and it's great to chat and interact on social media too.
Disclosure/Disclaimer:
I may mention the names of stores and/or brand names of products that I use because readers ask and I share products and sources which I use and think may be helpful to readers, all opinions are my own. Please note that manufacturing practices and ingredients can change at anytime without notice and readers are always responsible for assuring allergen safety before buying or consuming foods. NutFreeWok.com is a participant in the Amazon Services LLC Associates Program, an affiliate advertising program designed to provide a means for sites to earn advertising fees by advertising and linking to Amazon.com. Thank you for reading!