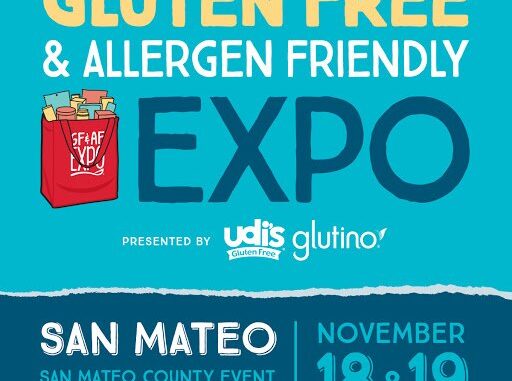 Gluten Free Allergen Free Expo (GFAF Expo) is coming back to the Bay Area, at the San Mateo Expo Center on November 18-19, 2017. I am honored to be on their official blogger/press team and have a few freebies and perks to share with you.
Disclosure: I am happy to partner with Gluten Free Allergen Expo to tell you about this event. All opinions are mine, I only share my honest opinion. This post contains affilitate links which might pay for a soy latte or two. 😉
If you haven't heard, the Gluten Free Allergen Free Expo (GFAF Expo) is an allergy friendly food show that takes place in various locations around the United States. Their mission statement states, "The Gluten Free & Allergen Friendly Expo is dedicated to meeting the needs of the celiac community, those with gluten and food sensitivities, auto-immune/inflammatory diseases, and autism. The public is helped through vendor expositions, educational sessions, and online resources. The manufacturers are serviced through vendor expositions, marketing programs, and consultative services." The show is open to the public, there are affordable ticket options, and it's a lot of fun. You might go home with a lot of coupons, samples, and swag and new information to make managing life with dietary restrictions much easier.
Welcome Back GFAF Expo!
I went to the 2013 Gluten Free and Allergen Free Expo. I was so impressed to see so many allergy friendly brands all in one place. I subscribed to an allergy friendly magazine at a great discount. I went home with so many product coupons, swag, and samples, it was like trick or treating for allergy moms!
I joined the official blogger team in 2014 San Francisco Gluten Free Allergen Free Expo, checked out the samples, met cookbook authors, and watch amazing cooking demos. I discovered some new-to-me yummy nut-free snacks, sweets, and Asian inspired brands and shared them with you. It's been a few years since GFAF Expo has been back to the Bay Area and I'm so excited to be one of their bloggers and welcome them back! I cannot wait to scout out more nut-free allergy friendly products to share with my family and readers who live too far away to attend.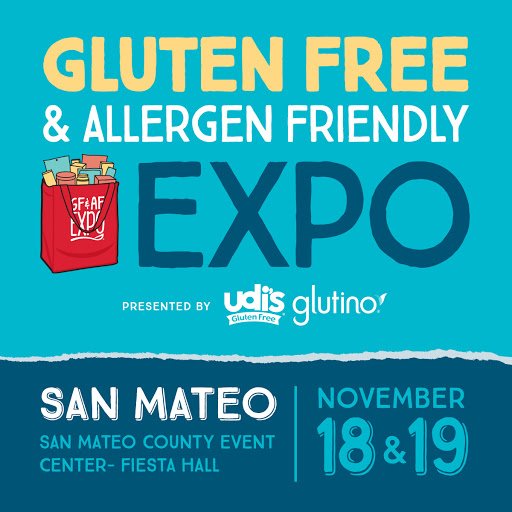 So Much to See and Learn! 
GFAF Expo is coming back to Northern California at the San Mateo County Event Center, which is a great location about 30 minutes from most places in the Bay Area. I anticipate that there will be a lot of companies showing off their delicious allergen friendly products as the free-from market continues to grow. The GFAF Expo might be a great excuse for a getaway weekend to San Francisco for some readers.
All the products are gluten free and some of the products might be free from some allergens or contain other allergens, please read GFAF Expo's safety info. It's so easy to get caught up with the excitement of coupons, samples, and swag, but remember that you are responsible for determining whether a sample is allergy safe for you before you eat it. Please read the labels, talk with the manufacturer, and be absolutely certain to bring emergency medications and/or a friend with you.
When you are ready to learn from the pros on how to manage your dietary restrictions (or just sit and rest!), head over to the classes. The classes offered on Saturday will feature presentations by doctors from Stanford Health Care and Stanford's Children's Health about medical topics:
"Demystifying Celiac Disease – From Symptoms to Diagnosis"
"Gluten, Gluten-Free… What's it All About?"
"Debunking the Myths around Celiac Disease and Food Allergies."
"Food Allergy Facts – What Helps to Improve or Worsen your Food Allergy Symptoms"
The topics on Sunday are helpful for gluten-free consumers who might be interested in "Gluten: The Gut, Brain & Skin Connection," "Gluten-Free Holidays," and "Gluten Free Baking 101." These all sound so interesting, I think it'll be difficult to choose which sessions to attend.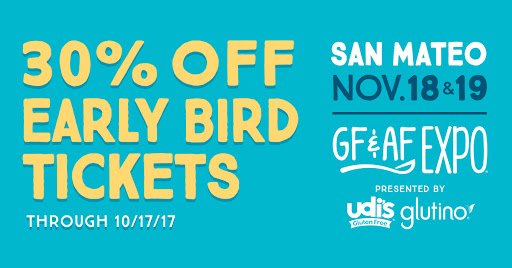 GFAF Expo Tickets
Do you want to go to the GFAF Expo in San Mateo now? Head over to the GFAF Expo page and order your tickets. Tickets for adults are $15 (1 day) or $25 (2 days) and check out the reduced prices for kids or the Sunday family package. Order your tickets ahead of time to take advantage of the Early Bird discount (30% off through 10/17) or Advance discount (20% off thru 11/17). Use the following promo codes:
30% off with promo code EARLYBIRD (thru 10/17)
20% off with promo code ADVANCE (thru 11/17)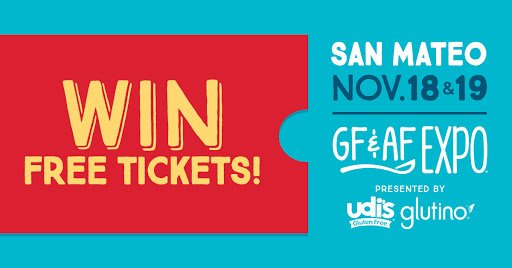 I am happy to announce that I will also have 5 ADULT ONE DAY tickets GFAF Expo at the San Mateo County Event Center on November 18-19, 2017 to give away to 5 lucky winners. The prize is one adult one day ticket per winner, winners must provide their own transportation to and from the expo. You may enter to win between now and October 22, 2017 midnight by entering the Rafflecopter below. One of the ways you can win is by answering the following quesiton in the comments section below: What allergens do you avoid? I will contact winners by email on October 23 or so, and if I don't hear back within 24 hours, another winner will be selected. No purchase is necessary.
Sign Up for Emails from Nut Free Wok!
The best way to see every post or recipe is to subscribe to Nut Free Wok's email subscription (be sure to respond to the confirmation email). I won't send you spam or share your email address with anyone.
Disclosure/Disclaimer:
I may mention the names of stores and/or brand names of products that I use because readers ask and I share products and sources which I use and think may be helpful to readers, all opinions are my own. Please note that manufacturing practices and ingredients can change at anytime without notice and readers are always responsible for assuring allergen safety before buying or consuming foods. NutFreeWok.com is a participant in the Amazon Services LLC Associates Program, an affiliate advertising program designed to provide a means for sites to earn advertising fees by advertising and linking to Amazon.com. Thank you for your support!