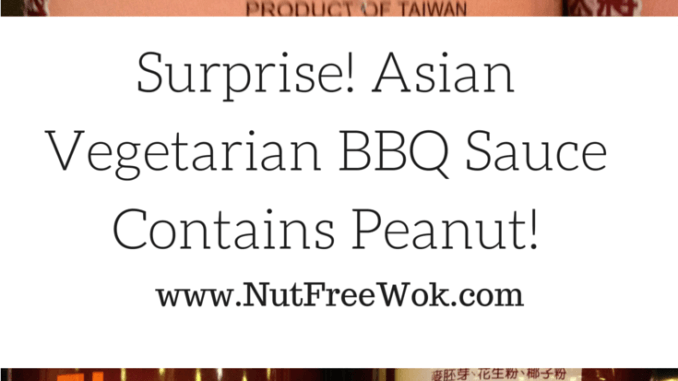 Surprise! Peanuts in Asian Vegetarian BBQ Sauce!
I launched Nut Free Wok with the intention to share Allergy Aware Asian Fare, to help my sons and readers to be informed and educated about how they can decode Asian foods and ingredients so that they can safely enjoy and eat wonderful nut free meals to their hearts' content. There are plenty of safe, delicious, nut free ingredients to mention and enjoy without expressing any negativity toward Asian foods in general or nut containing ingredients.
Usually the presence of nuts are obvious because I can either see the nuts or because it's an obvious nut containing ingredient, such as satay sauce or peanut sauce. Even when the presence of nuts is not obvious, I have some cultural context to know how foods are made and which kinds of dishes will have hidden allergens. However, I was so surprised to find two different Asian Vegetarian BBQ Sauces which contain peanuts and my mind keeps gravitating back to it as something important to share.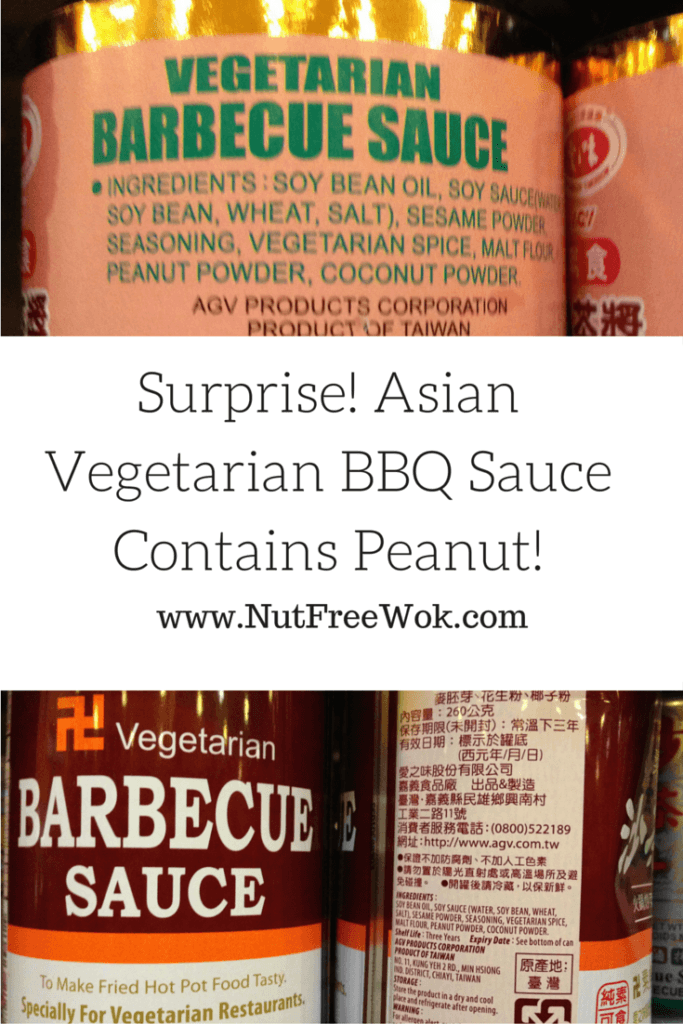 I admit that I can't put the peanut containing BBQ sauce into context because I've never used it and am unfamiliar with a vegetarian Asian diet. So without any negativity on my part and out of sheer curiosity, let's talk about Asian vegetarian BBQ sauce with the intention of preventing unexpected consumption of nuts.
Printed on the packaging of one of the cans of "Vegetarian Barbecue Sauce" is the following description: "To make fried hot pot food tasty, specially [sic] for vegetarian restaurants." The ingredient label indicates that the sauce contains soy bean oil, soy sauce (water, soy bean, wheat, salt), sesame powder, seasoning, vegetarian spice, malt flour, peanut powder, coconut powder. The label includes an allergen advisory for soy, wheat, and peanut.
Generally BBQ sauces do not contain meat products nor peanuts and are usually used to flavor BBQ meats. I'm not sure if all Asian Vegetarian BBQ sauces contain peanuts but these Asian vegetarian BBQ sauces contain peanuts and therefore warrant extra consideration. I'm guessing it might be used for meatless meals as a marinade, glaze, or dip. The ingredient lists of the Asian vegetarian BBQ sauces I found include soy, wheat, sesame, coconut, and peanuts, and unspecified spices. Be careful if you are avoiding any of those allergens. And be sure to ask questions about ingredients and be aware of potential cross contact when there is mention of an Asian BBQ sauce or a vegetarian BBQ sauce.
If any readers are familiar with Taiwanese cuisine or "fried hot pots" or Asian vegetarian meals, please help all of us understand more about this type of ingredient. What other ingredients have you found unexpected allergens (including but not limited to nuts)?
Thanks for reading, please show your support for Nut Free Wok!
The best way to see every post or recipe is to subscribe to Nut Free Wok's email subscription (be sure to respond to the confirmation email). You will to be notified by email next time I publish another post or recipe and I won't send you spam or share you email with anyone.
If you enjoyed this post, please use the social media buttons below to share with others. I am on Facebook, Twitter, Pinterest, and Instagram as @nutfreewok and it's great to chat and interact on social media too.
Disclosure/Disclaimer:
No material connection to the products mentioned or pictured. My opinions are based purely on reading the ingredient labels. Since my family cannot consume this product, I have no opinions regarding the taste, quality, or value of the products. Please consult your medical care team if you have any health related questions.