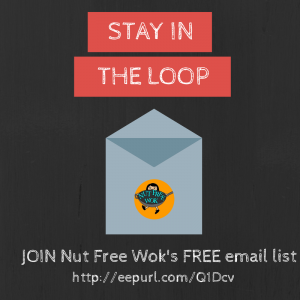 Are you signed up for Nut Free Wok's newsletter email list? It's really important to me that you do.
Many thanks to those who are already subscribed and are already reading this in their email, you rock!! Sharing recipes and learning to photograph food has been a learning experience for me and gives me great pleasure. Many of you know that I share about all kinds of food allergy related topics via Facebook and Twitter on a daily basis because I'm an advocate at heart.
But I am finding that Facebook is not a reliable means of sharing recipes and food allergy related news even though many have "LIKED" my Facebook page (yes, they're holding out on you!) unless you select "Get Notifications." Rather than relying on any one social media platform, I'm asking you to sign up for Nut Free Wok's free email newsletter so that you and I have a reliable way to stay in touch, thank you!
If you enjoy what I have to share, recipes, advocacy, and everything in between, please sign up for my newsletter. You'll get an email alert every time I share a recipe or blog post. I promise I won't sell or share your email, I won't send you spam, and you can always opt out if you change your mind. If you have questions for me, write to me at NutFreeWok [at] gmail [dot] com. Your questions inspire me, so feel free to ask questions and I will do my best to respond.