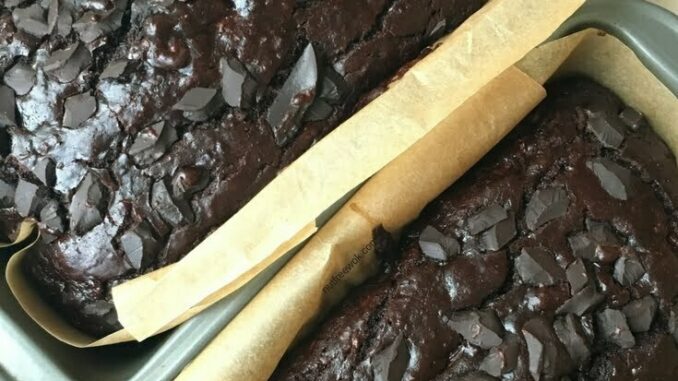 Like many families who can't eat their bananas fast enough, I make banana bread. One of my favorite banana bread recipes is my Triple Chocolate Banana Bread, which is super chocolatey because I use Rodelle's Organic Chocolate Extract, Rodelle's Gourmet Baking Cocoa, and topped with chocolate baking pieces. This recipe is perfect for breakfast or sharing with others at a brunch.
Post updated to a new format, minor edits, and to add that Rodelle has added an allergen advisory to their cocoa products. Please contact them if you have any questions. (1/20/2022)
Disclaimer: I am a brand ambassador for Rodelle and receive products to use and review. Please check that all ingredients are suitable for your allergies and be sure to ask your medical care team regarding any allergy related questions (I do not share medical advice). As an Amazon Associate I earn from qualifying purchases.
We Have Lots of Bananas for Making Chocolate Banana Bread
One of the reasons I end up making triple chocolate banana bread is because one of my sons is a runner and loves being on his school cross-country and track & field team and my other son has very vigorous workouts during PE at his school, and bananas are a great snack for athletes. I shop for groceries a couple of times a week and every time I shop, I buy one or two bunches of bananas because they're great portable snacks. Bananas are a great source of potassium and my dad used to tell me to eat a banana when I get muscle cramps.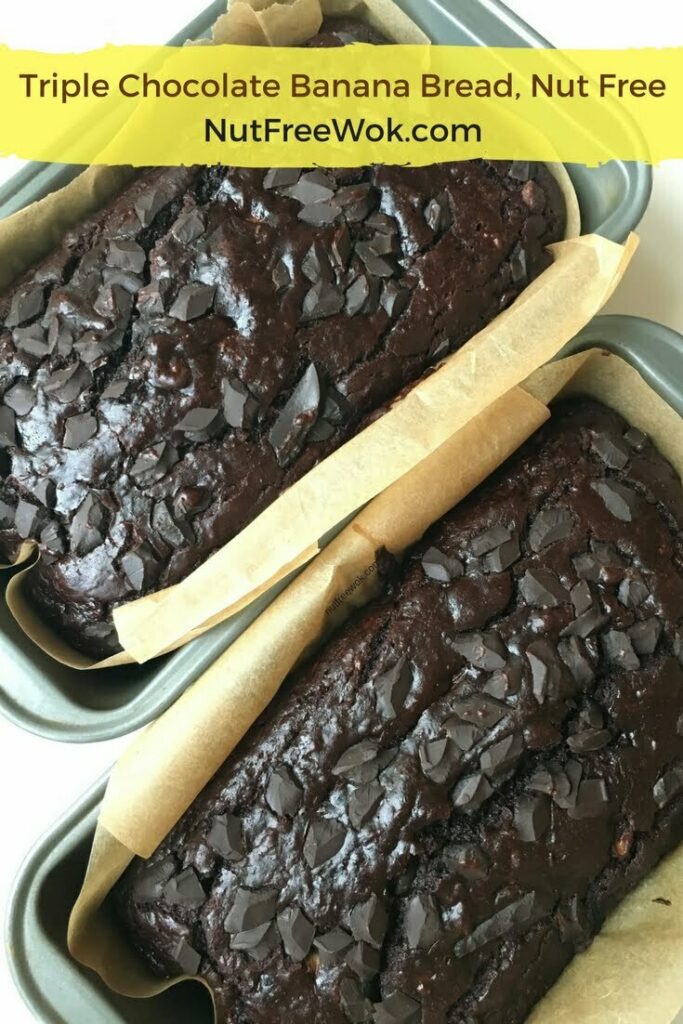 Banana Buying and Storage Tips
I know I have to buy bananas and I want to minimize waste so here are some of my best banana buying and storage tips:
If I know that I have a busy week, I'll buy one bunch of yellow ready to eat bananas and one bunch of green ones for later in the week. So simple but it took me years to figure this out…
Rinse the bunches of bananas with cold water. I started doing this when I was annoyed by dozens of fruit flies in my kitchen and started researching why and how to get rid of them. Rinsing the bananas washes away any possible fruit fly eggs on your bananas (I know, ewwww).
Separate the bananas. Have you ever tried to pick one banana from a ripe bunch and have a few bananas fall off the bunch? Separating them in advance helps to prevent that problem and also puts less pressure on the ripe bananas so they're more likely to stay intact until you are ready to eat them.
If you have too many ripe bananas, obviously make Triple Chocolate Banana Bread or Banana Chocolate Chip Muffins (nut free, egg free). But if you are pressed for time, peel the bananas and freeze them for smoothies later as a last resort.
Super Chocolate Banana Bread with Rodelle
One could make a chocolate chip banana bread with any nut-free allergy safe for your family chocolate chips, mini chocolate chips, or chocolate baking pieces. I like to use chocolate baking pieces because I like the size variations. But why stop there? We could make it super chocolately to the third power using two Rodelle chocolate ingredients in this recipe for triple chocolate banana bread.
I was actually planning to make a regular banana bread with Rodelle's vanilla extract, and it wasn't until poured the extract into my bowl and smelled chocolate that I realize that I had grabbed Rodelle Organics Chocolate extract instead and decided that I may as well make Triple Chocolate Banana Bread instead.
Rodelle's Organic Chocolate extract smells like chocolate in a bottle and adds an extra layer of chocolate flavor because it contains organic cocoa bean extractives. If I am making a chocolate dessert, I would add a teaspoon of chocolate extract or replace the vanilla extract.
When I shared my recipe for Classic Chocolate Wacky Cake, I also used Rodelle's Gourmet Baking Cocoa and I like their baking cocoa for the following reasons:
deep dark brown color due to Dutch processing, the resulting baked goods will look very chocolatey
richer chocolate flavor because of the higher percentage of cocoa fat
Rodelle does not use any peanuts or tree nuts in any products, if you have other allergen concerns be sure to reach out to their customer service department.
Update: as of 12/2021 they added an allergen advisory for all of their cocoa products, "Produced in a facility that processes milk, wheat, soy, eggs, sesame, almonds and coconut." It's possible your local stores may still have the previously nut-free products but please contact Rodelle to confirm. They might be able to check via lot codes or best by dates.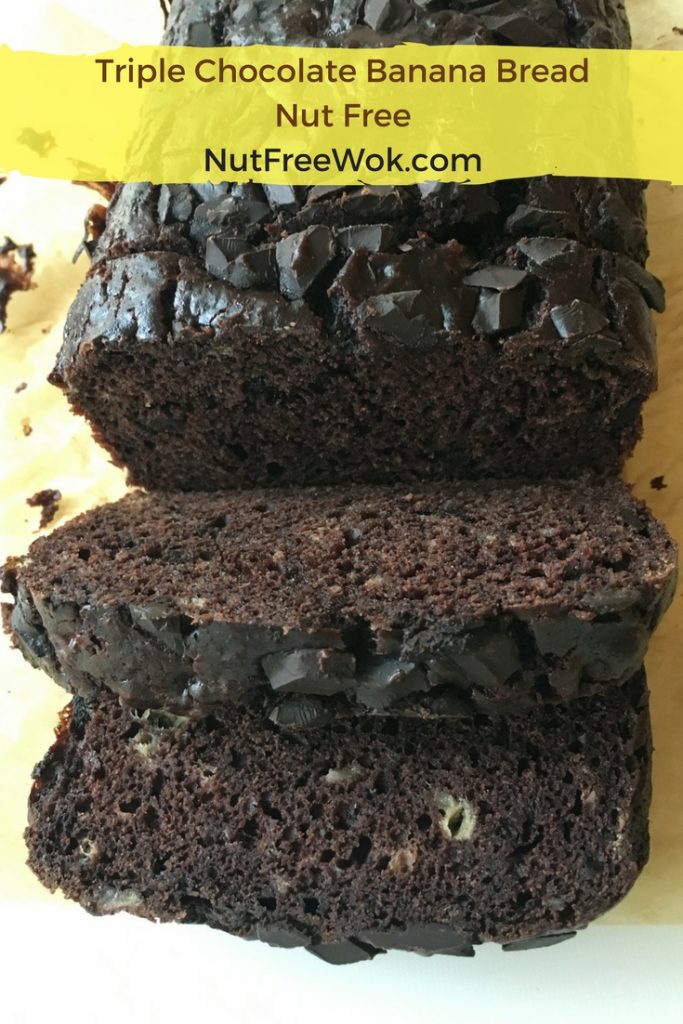 Allergy Aware Triple Chocolate Banana Bread
My recipe for Triple Chocolate Banana Bread is very similar to my award winning chocolate chip banana muffins (nut free, egg free, and easy to adapt to dairy free), which I developed over many years to make it with less fat and sugar than most recipes and still taste incredible. This recipe is approximately 7 weight watchers points per serving.
Thanks to my son's participation in food allergy research clinical trials at Stanford, I can add eggs to our diet. He's still considered allergic to eggs but as long as he doesn't eat more than 3 eggs in one sitting, he can enjoy banana bread baked with eggs and as well as other egg containing foods.
Make it egg free: My favorite egg substitute for banana bread is using 1.5 tablespoon water, 1.5 tablespoon oil, and mixing that with 1 teaspoon of baking powder per egg. This egg substitute works for up to two eggs (3 Tbsp water, 3 Tbsp oil, 2 tsp baking powder). One caveat is to test that your baking powder is fresh (drop a spoonful into some water and make sure the baking powder fizzes, if not then you need new baking powder). I've tried apple sauce as an egg substitute but don't recommend it as some might find the apple taste too distracting and the banana bread will taste dry the next day.
Make it milk free: Use easy substitutions such as your favorite brands of dairy free yogurt and dairy free buttery sticks or spreads. You could also use your favorite oil, I often bake of extra virgin olive oil when I'm out of butter.
Banana Allergy? Unfortunately some people are allergic to bananas and they should not make or eat banana bread. Bananas are related to latex allergies which may not always correlate but if you know someone with a latex allergy, be sure to ask if they are allergic or sensitive to any latex related fruits before sharing banana bread with them.
This recipe as written is free of peanuts, tree nuts, soy, fish, and shellfish.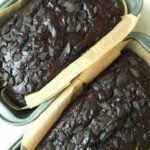 Triple Chocolate Banana Bread Recipe
This recipe as written is free of peanuts, tree nuts, soy, fish, and shellfish. See the blog post for instructions on how to make it egg-free or milk free.
Total Time
1
hour
5
minutes
Ingredients
2-3

ripe bananas

2 large or 3 medium sized

2

eggs

½

cup

organic sugar

1/3

cup

non-fat plain yogurt

or vanilla

¼

cup

butter

melted

1

teaspoon

Rodelle organic chocolate extract

1 1/2

cups

all purpose flour

½

cup

Rodelle gourmet baking cocoa powder

1

teaspoon

baking soda

¼

teaspoon

salt

1/2

cup

chocolate chips or baking pieces

reserve 1-2 tablespoons for topping
Instructions
Preheat oven to 350 degrees farenheit and make sure there's a baking rack in the middle.

Line a loaf pan with parchment paper.

Peel bananas and mash them in a large mixing bowl, mash bananas with a potato masher or a fork just until the bananas don't have a banana shape but is still chunky.

Crack two eggs in the banana bowl and use a fork to lightly scramble them.

Melt butter in a small bowl in the microwave for about 20-30 seconds (50% melted and then stir otherwise the butter will splatter and make a mess).

Add sugar, yogurt, melted butter, and chocolate extract to the banana and stir to combine, break up large pieces of banana with a fork.

Add flour, baking cocoa powder, baking soda, salt, and mix until just barely combined.

Add chocolate chips and gently fold into the batter, do not overmix.

Pour the batter into the parchment paper lined loaf pan, spread out the top evenly, sprinkle with the remaining chocolate chips, use the back of a spoon to gently press in the pieces, and wait 10 minutes before baking.

Bake for 50-55 minutes, the banana bread will smell amazing at about 45 minutes, test the banana bread at about 50 minutes with a skewer, the banana bread is ready when a skewer comes out clean (actual baking times will vary depending on the size of the bananas).

Allow it to cool for as long as you can resist, the banana bread is moist like a fudgy brownie 10 minutes out of the oven but tastes best when cooled to room temperature. I usually bake banana bread after I make dinner, take it out of the oven, lightly cover with a piece of parchment paper to cool overnight, and wrap with plastic wrap the next morning.
Thanks for reading, please help Nut Free Wok!
The best way to see every post or recipe is to subscribe to Nut Free Wok's email subscription (be sure to respond to the confirmation email). You will be notified by email next time I publish another post or recipe and I won't send you spam or share your email address with anyone.
If you enjoyed this post, please use the social media buttons below to share with others. I am on Facebook, Twitter, Pinterest, and Instagram as @nutfreewok and it's great to chat and interact on social media too.
Disclosure/Disclaimer:
I may mention the names of stores and/or brand names of products that I use because readers ask and I share products and sources which I use and think may be helpful to readers, all opinions are my own. Please note that manufacturing practices and ingredients can change at anytime without notice and readers are always responsible for assuring allergen safety before buying or consuming foods. NutFreeWok.com is a participant in the Amazon Services LLC Associates Program, an affiliate advertising program designed to provide a means for sites to earn advertising fees by advertising and linking to Amazon.com. Thank you for reading!